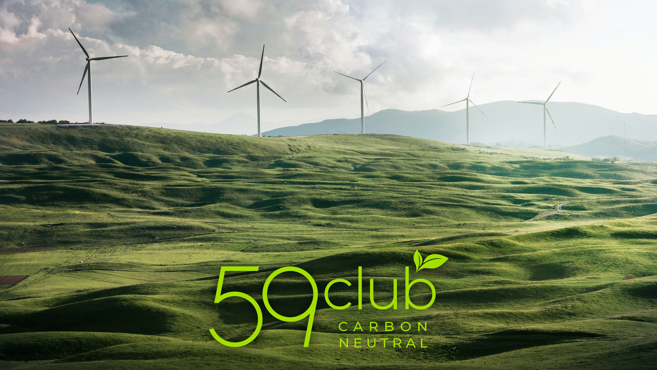 59club Headquarters has announced its commitment to becoming carbon neutral by the end of 2022 and their division serving the UK is joining them on this promise eight years earlier than planned.
As the market-leading performance-management specialist continues to expand its operation around the world, 59club had originally set its sights on a global goal of becoming carbon neutral across all territories by the end of 2030, however 59club UK and its Global Headquarters have brought forward their plan by eight years.
Will Hewitt, General Manager of 59club UK, commented: "We could wait, it would be easy to do so and with much less business expense, but we feel that action is needed now, and we are willing to act.
"Our plans have scrutinised every single activity and expense that our company undertakes, from our Mystery Shopping, Training Services, our Awards Events and programme, right through to the servers which host our software and the power used for every aspect of our employees work.
"We are confident that within the UK we can achieve the goal of eradicating our carbon footprint within the next 12 months. In addition, we want to go further and will also factor in the activities that our staff undertake away from work where we can support them. 
"As part of the plans we will also develop a tree planting project here in the UK, delivered in partnership with our clients, to compensate any areas of our business that happen to tilt the balance."
59club has six territorial divisions around the globe; UK & Ireland, Asia, USA, Middle East and Africa, Western Europe and Southern Europe, with two new openings set for 2022 in Canada and Australia.
The hope is that the other offices will also be in a position to accelerate their neutrality plans, with emphasis placed on the new divisions serving Canada and Australia to open in a carbon neutral position from day one. 
59club CEO, Simon Wordsworth, added: "We have long been regarded as an industry leader championing customer service and driving our affiliate venues towards delivering the greatest customer experiences, and now we'd like to take that position of trust and use it for the greater good, with the hope that others will follow in our footsteps.
"Working together to change behaviour is the only real way forward, and for those fortunate enough to be in decision making positions, it's up to us to create the environment to change attitudes faster, 59club are doing that.
"There is a significant cost to these actions, this cost is often used as a reason to push the deadline off into the distance. We firmly believe that companies should take action now, should use a "green" supply chain – we will be doing so and this feels like an opportunity not a cost in the medium term."