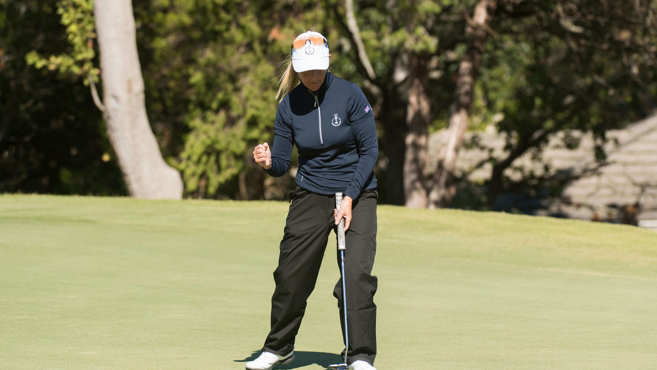 Day three saw blue skies replace the grey rain-filled clouds of 24 hours earlier but the promised lessening of the breeze did not materialise until mid-afternoon.
Yet whatever the conditions, the girls were really up for the challenge ahead of them – the aim to beat the Canadian in their respective groups and pip Canada for second place.
But as the day progressed the Canadians seemed to have the same idea in beating the USA member in their five-balls.
Late into the day's play, the Canadians were getting very close to the USA team. Twice they were just four shots behind, not least at the end which was the USA's margin of victory in winning the inaugural Women's PGA Cup.
Although Great Britain and Ireland did not catch the Canadians it was not for the want of trying. Indeed, they played so well their score was their best of the week.
After a couple of off days, Hazel Kavanagh rediscovered her mojo and posted our best score of the week, a one-over-par round of 73.
Meanwhile, model of consistency Heather MacRae carded her third successive round of 76 and Maria Tulley ended the week on a high.
Having endured a tough start by sustaining an injury to her right forearm and then being stung by a dragonfly on her left thumb, she signed off in style with a three-over-par round of 75.
Ali Gray also produced her best score of the week on the last day with a four-over-par 76 while Suzanne Dickens defied the weather on Friday with her best round – a six-over-par 78.
Above all, the fact that each member contributed to the team score over the three days is fantastic and makes me very proud of them and to be their captain. In summary, it was a great day and week for female professional golfers all over the world.