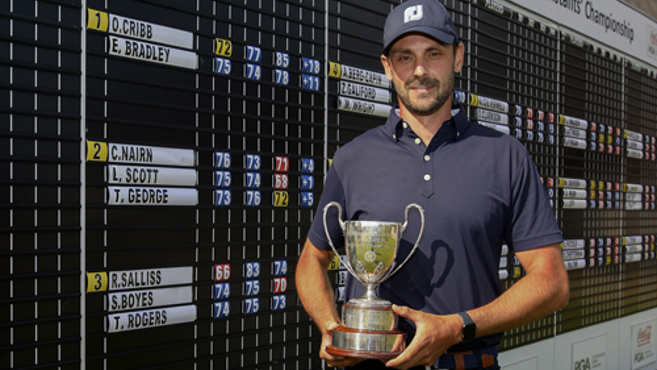 Michael Farrier-Twist rescued a seemingly lost cause at Farleigh Golf Club to win the Coca Cola PGA Assistants' Championship and add his name to an honours board that includes those of Tony Jacklin and Peter Alliss.
It is doubtful, however, those illustrious predecessors were faced with the mountainous task the year one PGA Trainee had to overcome to win a tournament that was first contested in 1930.
Over-turning a five-shot deficit in the final round to win the £5,000 first prize was a difficult enough task for the 29-year-old from Sedlescombe Golf Club in Sussex; that three-time European Tour winner Kenny Ferrie was the beneficiary of the advantage only compounded the difficulty. Moreover, he had to hold his nerve to prevail in a play-off to overcome his vastly experienced opponent.
"Winning didn't really enter my head at the start, I have to be honest," admitted Farrier-Twist. "My aim was to play as well as I could and finish as high as possible. I wasn't really under any pressure and the tournament was his to lose."
Ferrie, who has just completed his first year of PGA training after a change in the course of his golfing career, is likely to reflect on some short putts that failed to find the target, not least one of less than four feet that would have secured victory at the first play-off hole had it dropped.
Nevertheless, a three under par round of 69 for a 54-hole total of 15-under should have ­been sufficient for the 42-year-old to claim the title.
The alternative was for the left-handed Farrier-Twist to produce the best round of his short career. Which he did.
An eight under par round of 64 equalled the course record that Ferrie had breached on day one of the tournament with one of nine-under.
It also featured two eagles, the second at the par-five 12th preceding successive birdies that erased Ferrie's advantage.
Worse followed for Ferrie when he squandered a short putt at 15 before restoring parity by sinking a longer one for a birdie at the par-three 16th.
The pair followed up by trading pars at the final two holes to set up a sudden death showdown on the par-four 18th.
Then, having been reprieved when Ferrie missed that four-footer for a birdie at the first play-off hole, Farrier-Twist responded with an almost inch perfect approach at the second time of asking to set up a decisive birdie.
Reflecting on his success, he added: "That was my best ever round. I've gone seven-under a couple of times but have never been eight-under. As for today, I kept the ball in play but the real strength of my game was my putting.
"I've been having a pretty good season and did OK at the English PGA Championship last week. But this tops the lot, especially as it was the last outcome I expected at the start of the final round."
CLICK HERE for a full list of scores