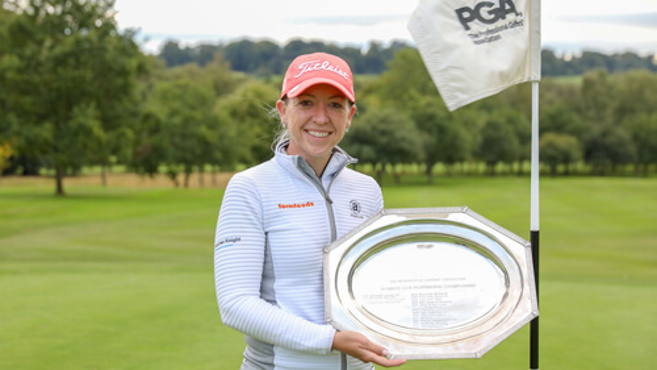 There was a strong sense of déjà vu at Kedleston Park Golf Club as Scotland's Heather MacRae won the WPGA Championship for the second year running.
It would, however, have been a hat-trick of victories had she not lost to Keely Chiericato in a play-off two years ago but she exacted revenge at the Derbyshire venue in not dissimilar circumstances.
Whereas one extra hole at Trentham Golf Club was needed to determine the outcome when the two ladies went head-to-head in 2018, two of the regulation 36 were required this time.
The two had been drawn together in a three-ball that was completed by former US Open champion Alison Nicholas and at the end of the first round MacRae and the London Golf Club's Anna Smith led Chiericato and the rest of the field by four shots. 
That margin between MacRae and Chiericato remained at the halfway stage of the second round then the fun and games started.
Chiericato, who is attached to Manston Golf Centre in Kent, began to get her game together and MacRae wobbled.
So much so that by the time MacRae double bogeyed the par-three 16th the pair were level on one-under for the tournament.
Both birdied the 17th and, with a strong whiff of another play-off in the air, MacRae held her nerve to hole a birdie putt at the par-five 18th and Chiericato missed hers.
Until the 17th MacRae had been unaware of the situation despite having the option to check the scores on her mobile phone: as a precaution to combat the spread of COVID-19 players recorded their scores electronically on their phones as opposed to exchanging scorecards.
"I tried hard to play my own game and had no idea what the scores were until we were playing the 17th," MacRae explained.
"I'd made a mess of 15 and 16 and thought I'd better have a look to see what I should do over the last couple of holes. When I found out the scores, I thought 'here we go again'."
While MacRae's head-to-head with Chiericato evoked memories of times past, this victory was not charged with emotion as it was 14 months ago when, within days, the 36-year-old was due to undergo major surgery after being diagnosed with cervical cancer.
"This wasn't as emotional as last year," recalled MacRae, who is now free of the disease.
"I've won quite a few trophies but I've never managed to defend one before. So I'm absolutely delighted to win it.
"It's definitely one of the tournaments I look forward to playing each year and I always try to bring my 'A' game with me."
MacRae's 'A' game earned her £1,000 in prize money and means she has now won the trophy three times and is one short of Tracey Loveys' record tally of four wins.
Leading scores: Heather MacRae (Heather MacRae Golf) 145 (-3); Keely Chiericato (Manston Golf Centre) 146 (-2); Alison Nicholas MBE (Beau Desert Golf Club) 147 (-1); Katie Rule (Mendip Spring Golf Club) 148 (level par).
A full list of scores can be accessed here