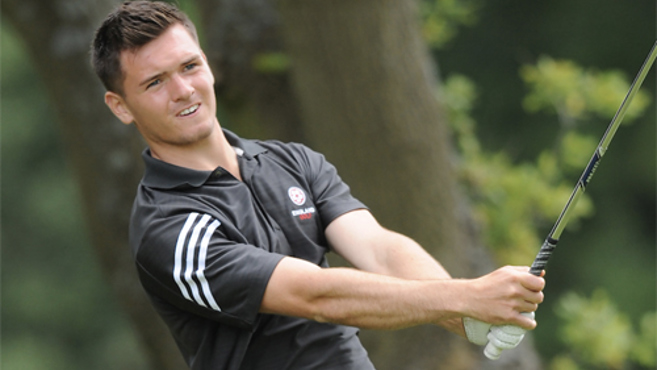 Ben Amor raised the curtain on PGA West's tournament programme with a flourish by posting a four-under-par round of 66 to win two events staged in tandem at Cardiff Golf Club.
As well as finishing three shots clear of Zach Galliford in the R&A PGA Trainees Development Series event, Amor enjoyed an even bigger margin of victory in the Titleist & FootJoy Assistants & Under 30s Pros' Sprint.
The latter event was open to PGA Trainees of any age and pros younger than 30 and Amor finished four shots ahead of experienced campaigners Toby Hunt and Ashley Mansell.   
In doing so, the former Carris Trophy winner and PGA Trainee from Marlborough Golf Club recorded six birdies. Crucially a trio of them came over the last four holes of a course that demands accuracy as opposed to raw power to negotiate successfully.
That contrasted sharply with his negotiation of the outward half which saw him reach the turn in level par after a birdie at the sixth erased a bogey at the third.
Galliford, who is attached to Ross on Wye Golf Club, was the only other player in the field to break par and he too fared better on the inward half.
Having reached the turn in one-over, he began the back nine with a birdie and eagle en route to a one-under-par round of 69.
Meanwhile, Hunt of nearby St Mellons Golf Club and Clevedon Golf Club's Mansell bounced back after each recording triple bogeys to finish on level par.
The shot of the day, however, was executed by Celtic Manor's Marc Putnam. Employing an eight-iron, he recorded a hole-in-one at the 130-yard fifth hole.
Full scores R&A PGA Trainees Development Series 
Full scores Titleist & FootJoy Assistants & Under 30s Pros' Sprint