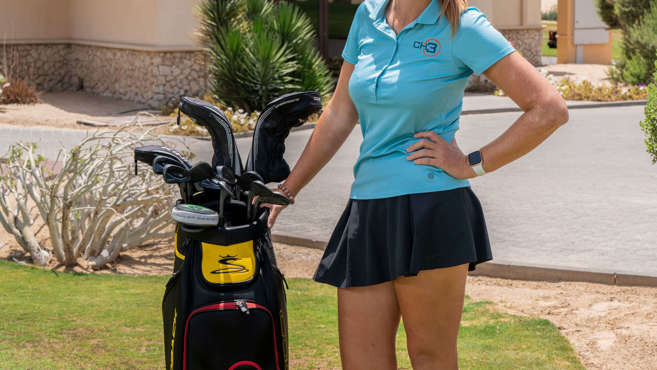 Having started her coaching career at Cleobury Mortimer Golf Club, located in the quiet market town of the same name in southeast Shropshire, Amy Millward made the decision to relocate to the warmer climate of the Middle East in December 2019.
Looking back at what first inspired her to make such a life changing step in her career, Millward recounts a chance encounter during a holiday to Dubai.
"I was on holiday and playing golf at The Els Club in 2017 when I bumped into a friend from my PGA training. She was currently working as an intern there, so we got to chatting about her role and experience of Dubai. Afterwards I thought, 'that's something I want to try'."
It was a case of being in the right place at the right time. Seeing that friendly face prompted the start of the journey. Millward introduced herself to the staff at the Claude Harman III (CH3) Golf Academy, located at The Els Club in Dubai Sports City, and registered her interest in completing the same internship as her friend.
Two internships swiftly followed at the CH3 Academy in January 2018 and 2019. These previous experiences would lay the foundation for being offered a full-time job role later in 2019. Millward thinks that the PGA qualification was also vital in enabling her to take such an amazing step in her career.
"After my two previous internships, the team said they would keep me in mind for any potential future positions. Luckily in December 2019 a job became available. They wanted to hire a PGA Professional, so having that qualification was obviously a huge help."
Two years later, Millward has certainly hit the ground running in Dubai. She has started a ladies coaching programme at CH3 completely from scratch. Which, through a combination of taster sessions and teaching classes, has introduced over 200 ladies to golf for the first time. A remarkable number in such a short amount of time.
Millward explained how the team ethos and willingness to learn from other golf professionals in Dubai has helped her develop as a coach. Having first moved to Dubai just shortly after completing her PGA training, it has been an excellent learning curve.
"Being able to shadow experienced coaches and see them in action taught me a lot. I have also been very lucky to have worked with a really forward-thinking and close-knit team. We each have our own specialities and sections, but it is equally important to help each other out and share ideas. Even though Dubai has lots of golf clubs in a relatively small area, it's all about developing ourselves as golf professionals and adding extra strings to our bows."
Still thoroughly enjoying her time in Dubai, it is perhaps no surprise that Millward would recommend other PGA coaches give the Middle East a try.
When asked what she would say to anyone currently considering making the move, she gave some sound advice: "It is helpful to visit the Middle East beforehand. Play some golf in the area and introduce yourself to local people within the industry. That way you can speak to people that have made a similar transition and ask them for their advice."