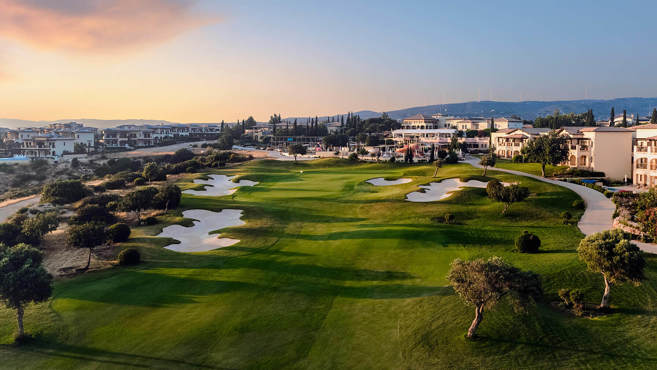 Aphrodite Hills Resort, home to European Golf Course of the Year 2018 and 2019, has achieved golf's most comprehensive and widely regarded sustainability distinction.
PGA National Cyprus Golf Course has become GEO Certified as the resort continues with its commitment to minimise the impact of its operations on the environment. 
Every care is taken to create a sustainable environment across the Resort grounds, and to educate guests on best practices for conserving energy and lessening their impact on the Resort's natural landscape.
Certified® is golf's international ecolabel and a trusted symbol of great golf environments worldwide.
Furthermore, Aphrodite Hills has been crowned three times (2017, 2018 and 2019) the Green Club Eco-Label of the Year by the Cyprus Marine Environment Protection Association (CYMEPA). It is the first golf club in Cyprus to have received this distinguished award. 
This award is a recognition of the multi-level efforts made for ensuring the sustainable operation of the Golf Club in the areas of energy consumption, water consumption, waste management, the use of environmentally friendly personal cleanliness and detergent, food and drink quality, and environmental education.
Andrew Darker, director of golf at Aphrodite Hills, said: "Every effort that we put is made to implement environmental measures in the maintenance of the golf course which will benefit the environment and the game in the long term. Our aim is to maintain its high quality, in more sustainable and more environmentally friendly ways.
"The environmental consciousness of our multi skilled golf team has always been top priority. Golf in Cyprus is growing on an upward scale as all the relevant players on the island join forces to promote their all year-round top-class facilities. We also dedicate time and resources into youth golf with the aim of encouraging a new generation to try the sport.
"Our biggest game is the environment and this has become our team's culture. We are very proud that these important environmental certifications such as GEO and Green Club, keep on coming aboard."ou play better when you really care.''