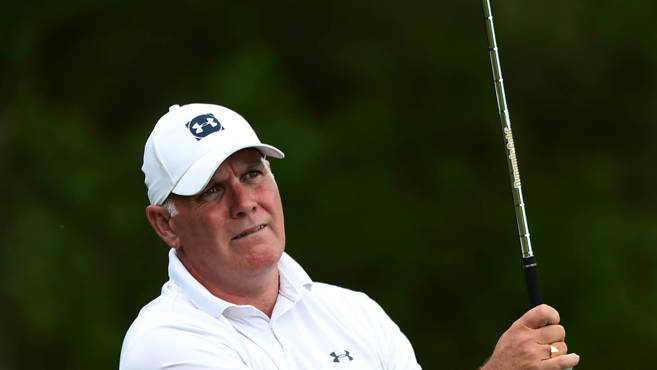 Phillip Archer came through another play-off to defend his title at Leeds Golf Club.
Twelve months after coming through a four-man play-off Phillip Archer was at it again in the Leeds Cup, the oldest trophy in professional golf worldwide.
The 50-year-old defended his title, this time against debutant Paul Kinnear, to take his tally to four which dates back to 2000. Archer, who shot a three-under 66 on the first day, added a second 66 to finish on six-under and Kinnear, who had reached eight-under, matched him with a par on the last.
For much of the day Kinnear looked to be in control but back-to-back bogeys brought Archer and Hull's Steve Robins back into it. Robins picked up three birdies on the bounce from the 11th but he then gave a couple of shots back at 15 and 16 before making a brilliant birdie at the tricky par-3 18th.
He would end up on five-under which ended up being one shot short after shooting the joint lowest round of the day – Liverpool's Tim Ford was the other player to record a 65 and his effort was decorated by a brilliant albatross two at the par-5 14th as his 4-iron approach found the bottom of the cup. 
"I didn't go away,  I made a slow start with pars at the first four though I had some good chances. I was a few behind so I started to take on some more pins, I hit a great shot to the 5th to about three feet and to six feet at the 7th and then I holed a 40-footer across the green at the 9th. So then I'm having another look at the scores, I was back to two behind and Paul was obviously playing well so the plan was just to hang around," explained Archer.
"I made a silly bogey on 10 but then birdied 14, I wasn't really thinking of winning as Paul had the par 5 to play but I had a look on the 17th tee and I was level. I very nearly birdied that and I thought just hit the green at the last as it's a tough hole with a tricky pin position."
Kinnear, who won the Order of Merit event at Pleasington in May and leads the standings, played the first extra hole disappointingly, coming up short with both his approach and chip, and Archer was left with two putts from 15 feet to win. As it transpired he only needed one. 
"I started really well, I was three under after nine and felt like I was untouchable, it was all dead steady and in control, I then missed the green at the 13th and had a tricky up and down and then bogeyed the next as well. I didn't know what the scores were as I might have gone for the 17th but I stuck to my game plan and try and make a birdie that way," said Kinnear.
"I seem to be driving it well this year and this week my putting and iron play has been decent. As you saw in the play-off my short game can get a bit dodgy so that needs some work. That's down to nerves and a lack of practice, I've been working and playing so much recently and I let a few shots go around the greens this week. This is the first time that I've played in the Leeds Cup and it's obviously still a good week, I started my PGA in November and I'll still be leading the Order of Merit so things are going well." 
Archer turned 50 in March this year and he now plies his trade on the Staysure Tour and a recent run of four successive tournaments meant that he nearly missed his title defence. 
"I only entered a few days before, I've played a lot recently and we're going on holiday on Sunday and then I've got a few more weeks on the road after that. But my kids are away for the week and my wife's been working so thankfully I came and played."
Last year Archer's victory came less than a week after his 81-year-old mum had died and it still remains pretty raw.
"It was the anniversary of her passing on Tuesday and it was my dad's birthday on Wednesday so they're up there giving us a bit of help, there were a few putts that went in that shouldn't have.
"Turning 50 has given me a big boost and I've been waiting for a few years, it took me a few tournaments to get used to it but I'm working hard again; keeping my speed up and staying fit and making sure that the body is moving the right way. I do a bit of running and I get to the gym and I focus on keeping up core strength to try and give myself a bit of an advantage. This is a great one to win, you always want to win the majors in the north region."
CLICK HERE to view a full list of scores from the Leeds Cup.