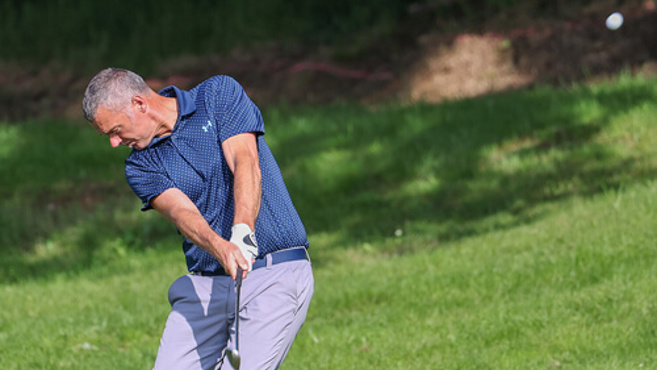 Barry Austin signed off with an eagle and a birdie at Romford Golf Club to put himself on course to improve on last year's runner up position in the Senior PGA Professional Championship.
Austin, who finished two shots behind Liam Bond 12 months ago, leads the chase for the £6,000 winner's cheque at the end of day one after posting a four-under par round of 67.
That has put him a shot clear of Legends Tour 2013 Order of Merit winner Paul Wesselingh, and Andrew Oldcorn, who has tasted victory on both the Legends and European Tours.
All of which looked an unlikely scenario when he approached the par-three 17th.
"It had been a day of patience until that point," explained Austin, the head PGA Professional at Downes Crediton Golf Club, Devon.
"I was hanging in there at one-under with two to play and lo and behold on 17 I hit a seven-iron and had a hole-in-one. That made my score look very good. Then I had a birdie at the last, which made it look even better!
"Until the last two holes, my round was just solid. I had two birdies and one bogey prior to that on what is a great course. You've got to be patient and keep the ball on line."
Austin will play West Essex tomorrow, the course which will also stage the tournament's third and final round and clearly suited his game last year.
"I finished second to Liam then and it's a course I'm familiar with," he added. "I expect it to be drier this year so it could be a different test."
Judging from the scores on day one, it could also be a more challenging one: David Brunton of Northenden Golf Club, who is on two-under, is the only one in the top eight who played at West Essex in the first round.
CLICK HERE for a full list of scores