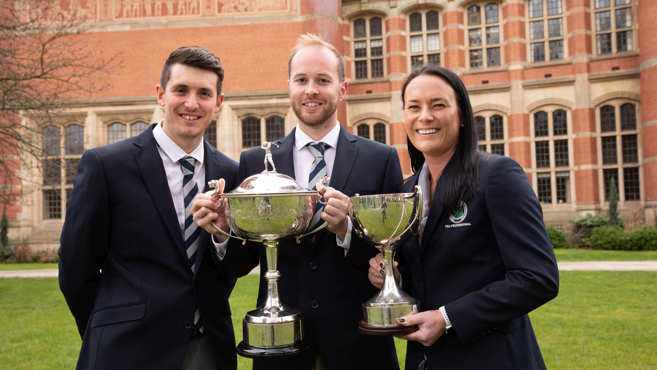 The latest recipient of the Titleist PGA Assistant of the Year award, Michael Bradfield, has described his qualification as a PGA Professional as a 'golden ticket' to the golf world.
Similarly, Fame Tate, a former Ladies European Tour player and winner of the PGA Female of the Year award, admitted she would have been ill-equipped to embark on the latest chapter of her golfing career had it not been for her PGA training.
Both were speaking after the Association's annual Graduation Ceremony in the Grand Hall at the University of Birmingham.
During it, Bradfield, who trained at Elie Links in Fife, Scotland, collected the Whitcombe Cox Trophy and a cheque for £3,500 from Titleist brand director Michael Creighton and PGA captain Peter Hanna in recognition of his achievement.
But that was not the 32-year-old's sole reason to celebrate. His bank balance was given a further boost when Conor Dillon, GolfPride regional manager EMEA, handed him a cheque for £1,500 for winning the GolfPride – Equipment Technology and Custom-Fitting Award.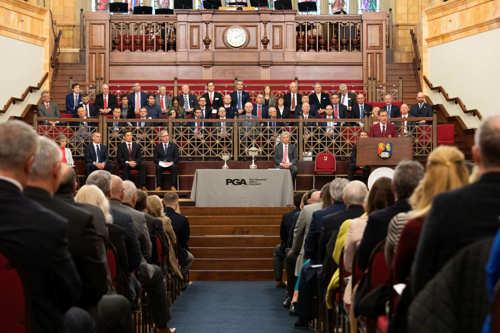 Meanwhile, Tate was presented with the Beverly Lewis Trophy by the former PGA captain and a cheque worth £1,750 from Ladies European Tour director Mike Round. In addition, the 38-year-old earned £1,500 for finishing third behind second-placed Ben Wilkinson and Bradfield in the Titleist-sponsored rankings.
The seeds of Bradfield's success had been sown 12 months earlier at the same venue when he was named the leading second year PGA Assistant.
"I was top for the second year and that was the point when I thought if I work hard during the third and last year I've got a real chance," he recalled.
"I came to the ceremony last year, saw who won it and thought that would be a fantastic opportunity. I worked hard and it has certainly paid off – I've been walking on air for the last few months."
The last two of them have been spent at The Dutch Golf Club near Amsterdam in Holland – a career move that endorsed comments made by PGA chief executive Robert Maxfield during his speech to the 400-plus audience.
He told the 116 graduands in attendance: "Many of you will seek fame and fortune outside the borders of Great Britain and Ireland and will take your knowledge and enthusiasm to every corner of the globe.
"In the early years of the Association PGA Members helped establish other PGAs. These included the PGAs of America, Australia and Canada.
"Today, our Members travel east where there are huge opportunities and I'm proud to say we now have more than 1,500 Members working in 80 countries worldwide."
Maxfield also described the PGA'S training as second to none and added: "Today's graduates have become PGA Professionals knowing they have come through the best training programme in sport. They can go forward with the confidence of knowing they are the best."
It's a belief held by Bradfield who concurred: "Qualifying as a PGA Professional opens so many doors in the golf industry.
"I have friends who are PGA Professionals, all doing different things – working abroad, custom-fitting, coaching.
"So you don't necessarily have to be passionate about a specific area of golf. If you do the PGA qualification it's a golden ticket to working in the golf world."
Tate's golf world, by contrast, is closer to home. Within months of qualifying as a PGA Professional, Tate, who was born and brought up in Derbyshire, bought Stanedge Golf Club in the Peak District.
As well as owning the nine-hole course, Tate gets involved in every aspect of running it.
You name it, Tate tackles it – whether it's working on the course itself, serving behind the bar or painting the locker rooms.
"They are all things I never ever imagined doing - every day is a school day really!" laughed Tate whose six years on the Ladies European Tour were ended by a shoulder injury.
"Then there's the business aspect of running the club – if you'd asked me to do this two years ago I would not have felt comfortable at all.
"I think people view The PGA course as being all about golf coaching but that's not the case. It provides you with everything. It's enabled me to have the confidence to run my own golf club, particularly from a business point of view.
"Obviously there are skills I still need to learn but The PGA course gave me the necessary ones to get going."