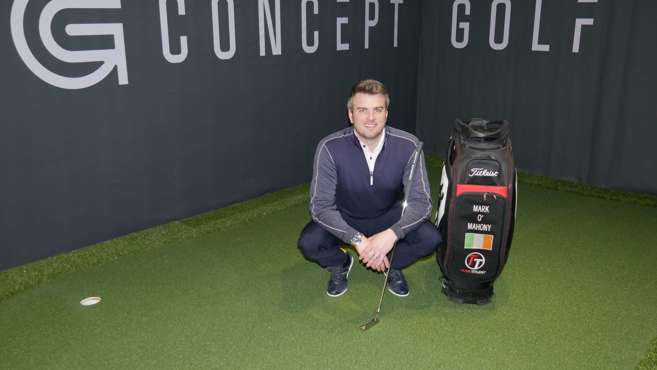 Almost two years after taking the brave decision to start his own business, Mark O'Mahony and Concept Golf are thriving.
The Covid Pandemic has undoubtedly been difficult for everyone but in the midst of the suffering, there have been little chinks of light with people being afforded opportunities to further themselves and take a new career path.
One of these people is Garristown native Mark O'Mahony who set up Concept Golf towards the end of 2020. An incredibly brave decision considering we had to endure another lockdown in early 2021 where golf came to a standstill. However, just under two years since taking the plunge into self-employment O'Mahony is loving every minute of it.
Concept Golf is an indoor swing studio set up in Ballycoolin, Dublin. This state-of-the-art facility has an indoor simulator powered by Trackman 4 which allows the Ardcath man to do custom fitting with putting as well as irons and metals.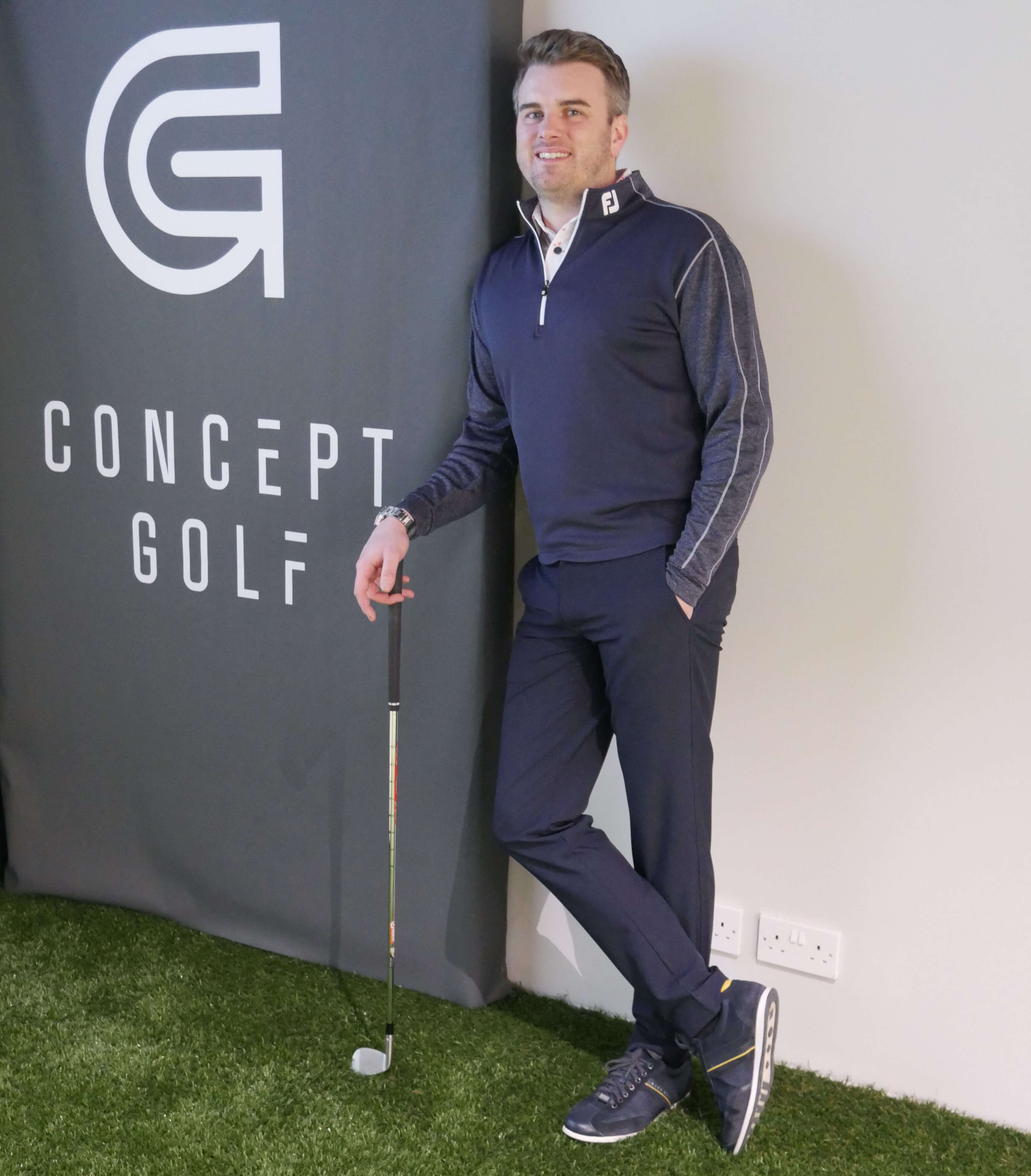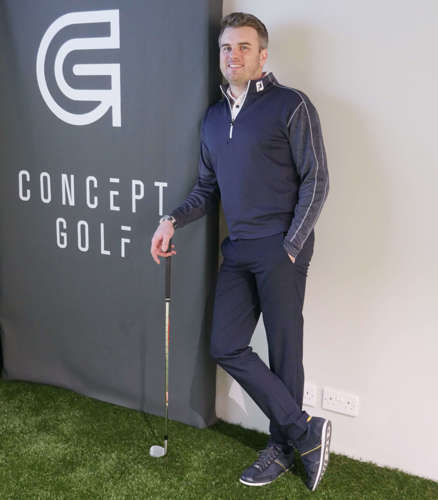 A PGA Professional who earned his qualifications in 2010, many would assume that O'Mahony was another child protégé with a natural talent for the game when in fact, swimming was his first love before he ditched the pool for golf when he was 16 years old.
Inspired to take up the game by his father, O'Mahony joined Hollywood Lakes Golf Club and had a handicap of two by the time he turned 19 and he attributed his rapid rise due to the competitive nature he developed in swimming as a child.
"Once I got started, I fell in love with golf," he said. 
The 38-year-old served his time as a club professional at Ashbourne Golf Club under the guidance of John Dwyer before assuming a custom fitting role at McGuirk's after which he progressed to Titleist where he spent eight and a half years.
"Club fitting was coming on the scene in a different way to years gone by and I was just always attracted to it and working with golfers to make sure they were getting the right equipment to their swing and that naturally progressed when the Titleist role became available in Carton House," said O'Mahony.
"I was there for eight and a half years which was brilliant. I was fortunate to work with some tour players and some top amateur players in the country as well. People of all abilities and levels I was able to work with and forge out an experience of how people would work and what that pattern of motion would be and that's a big attribute to what I do now at Concept Golf.
"I set Concept Golf up during Covid in late 2020 and it's a business where we bridge the relationship between golfer, golf swing and golf club. I was able to get the studio up and running in January 2021 and we were ready for trading from March to May of '21 so we are coming up to one year of trading which has been a fantastic and challenging time but I am loving every minute of it.
"I am passionate about custom fitting I love the game of golf and helping people along. My big remit with golf right now is to give the right message to the individual. No two golfers are the same but through the experience of what I have I feel I can get the individual into a better place to enjoy and play better golf," added O'Mahony who still gives lessons in tandem with his custom fitting.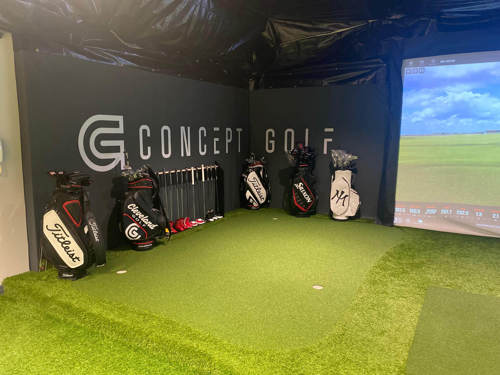 Naturally, fleeing the nest at Titleist to fly solo at the height of the pandemic was a daunting task for but it is a testament to the service he has provided over the last two decades that O'Mahony's clients have remained loyal to him and that has seen him go from strength to strength.
Speaking to the Dubliner, his passion for helping people was audible and that has been reflected in his business so far.
"I am in the golf trade twenty years and from working with Titleist I have developed a nice client base and created a nice name within the industry. I had a little bit of traction when I was developing Concept Golf but on the back of Covid we have had a massive influx of golfers which has been fantastic for the golfing industry in Ireland.
"At the end of the day we have become more technologically advanced.  Our outlet for absorbing information with Trackman and other devices has changed the language to a point where when we are looking at golf clubs we have numbers and barometers to help players make that investment. We can't do it off an assumption.
"We are investing in ourselves and it is important to get it right. It is something that I really am passionate about to be thorough. Every individual is different, so it is vital to understand and learn how they see that process and what works for them.
"At Concept Golf we are more equipped than ever before in providing a custom fitting and teaching service," he added.
Coaching is still a huge part of O'Mahony's business at Concept Golf and he feels extremely lucky to be able to combine his two passions. He offers one and two-hour sessions where he combines both coaching and fitting in order to give the client the best service possible and make the right clubbing decisions tailored to their game.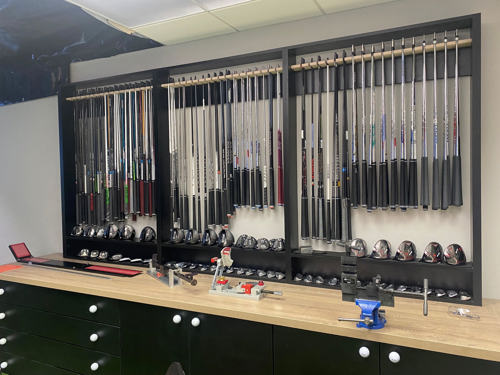 "I still coach and it is a very important part of my business that I can merge the two together because I believe you won't have one without the other. You won't have a consistent golf swing without having clubs that are properly fitted for you and you won't have clubs that are working if you aren't making a consistent golf swing.
"It's important for me when working with individuals that we identify what the key outlets are, is it a swing issue or is it an equipment issue and we work through it and manage it.
"I would do an hour or two of coaching and from there I have a one-hour package for one part of the bag and then a two-hour fitting which encompasses the whole bag excluding the putter. It allows me to work through the golf bag in an adequate timeframe."
O'Mahony's work ethic is infectious and the bravery he has shown to leave the club pro scene has been rewarded. The difference between being a club pro back in Ashbourne or indeed a custom fitter at Titleist is that he has to go and earn his customer loyalty a challenge he has met head-on and overcome.
"I am a completely different business to what a club pro is. I have different responsibilities and a different client base. I feel I can be open to anyone and everyone as opposed to being aligned to a club which is what I enjoy the most. I don't see other challenges impeding on what I am doing.
"The challenge is I am not guaranteed footfall. I have to go out and earn it. I have worked hard to get a name out there and have a client base that people trust. That's the big thing in the golf industry is that if you are trustworthy and you are reliable and can give people a good experience and they are happy with the service you provide, the rest will look after itself.
"Yes it can be scary setting up a new business and hoping it goes well but concentrating more on the customer service will evolve into maintaining good footfall. I am in newfound territory now where I am working with other premium brands and I am starting to see a player who might align to a different product will come in to get fitted and try a different experience to where they may have been before which is cool to see," said the PGA Professional who still plays competitively.
Determined to find the balance between work and preparing for the PGA schedule this year, he is eager to compete this season and has circled some big events in the calendar.
"That's still the key drug for me getting out and competing. Fortunately I compete at a good level and if I want to stay there I have to put the work in which I do and I am passionate about it on a personal level. I think we have a great golfing culture in Ireland from the people involved to the courses we play.
"I am looking forward to this year and I am putting the work in to play to the best of my ability.
"Time is the key thing. I would be diligent with my time and scheduling. There are probably four or five events that I always circle around the calendar. Irish Championship, club pros and the two-day event in the K Club which has a big prize fund. That will kickstart a good run of events for the K Club with the Irish Open and Challenge Tour."