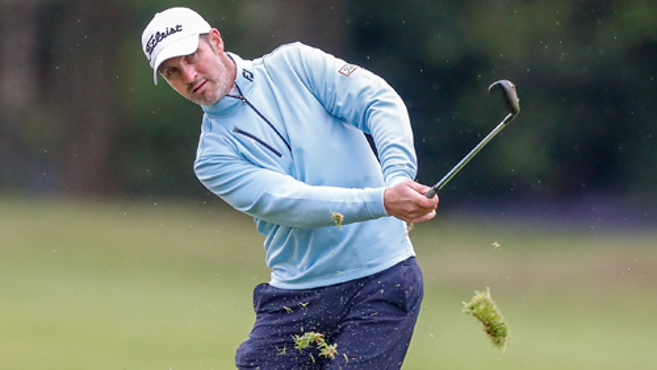 Semi-retired NHS worker John Bardsley and 2019 PGA Cup captain Cameron Clark will represent Moor Hall Golf Club in next year's SkyCaddie PGA Pro-Captain Challenge final in Italy thanks to a last-gasp birdie.
The duo won the Midlands regional qualifier by just one point after Bardsley holed a birdie putt on the 18th at Coxmoor Golf Club and will play in the showpiece final at the Argentario Golf Resort, Porto Ercole.
Bardsley and Clark (above) totalled 45 points at the Nottinghamshire venue to edge out Crawford Hunter and Daryl St John-Jones of Southwell's Oakmere  Golf Club.
It will be Clark's second visit to the final in five years as he finished second in the 2017 event in Morocco.
But 18-handicapper Bardsley admitted he did not realise the pressure he was under to hole that final putt.
"I didn't realise how important the putt was," he said. "I hadn't been following the scores and if I had I would've felt a lot more pressure.
"As it turned out, it was the winning putt and we were delighted to get the victory and playing in Italy next year will be great.
"Playing with someone as experienced as Cameron was tremendous, but he said at the start of the day that we were just going to smash the ball as far as we can and enjoy it."
Bardsley has been a member at Moor Hall for around 12 years and although he officially retired from the NHS dealing with patients with mental health issues two years ago, he has returned on a part-time basis.
"I got a little bored after retirement and decided to work two days a week at Burton Hospital," he explained. "The last 18 months have been testing due to the pandemic but I'm glad I'm doing it."
CLICK HERE for a full list of scores