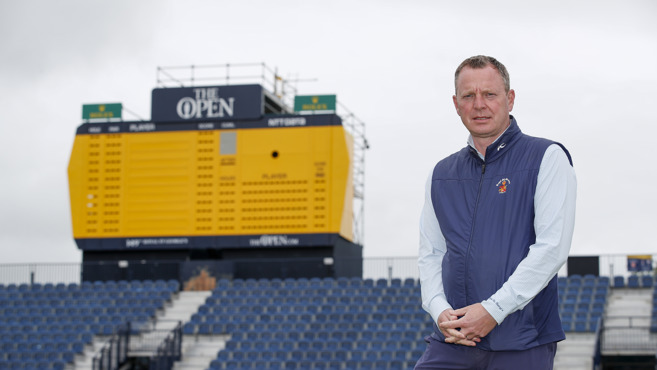 Justen Fiddler joined Royal St. George's in 1997 after moving to the south east from East Lothian, Scotland. A year later than planned due to the COVID-19 pandemic, Fiddler is preparing for his first Open Championship as the venue's head professional.
What is the role of a head professional and your team during Open Championship week?
For ourselves in the pro shop we are open for business as normal but who we actually see during the week is members and guests. We do see a number of players come in with their entourage/family/friends. It's a very busy week for us. We'll see members who we may have not seen for two to three months with their guests. We're still delivering our service to members but it will be on a bigger and busier scale in the week of The Open. I might also be asked to do some extra bits, external things with possibly radio or TV, giving them a little insight into what goes on during the week from a PGA Professional's point of view.
How do you organise your team during Open week?
I'll be taking on a couple more people in the shop so we'll be doing a split shift system. It's a long week but I think that gives everyone a little bit of time to watch some golf because it's quite full on. For myself, I'll be overseeing my team but also making sure I'm visible to members and their guests. It's exciting hosting The Open Championship because it's the biggest and the best Major in golf. It's very full on for everyone both on and off the course.
Do you speak to any other pros at Open venues to prepare?
I have spoken to Gary McNeil (head professional at Royal Portrush) on numerous occasions and others regarding merchandise, retailing and that sort of thing during Open week. We've all got different business models so it's important that we know what other people have done previously just to get a little bit of knowledge from them to help us. Hosting the Open Championship here helps put Kent and the South East on the map and everyone wants to make sure it's the best Open Championship that we can provide, hence why there's a good relationship between all the host clubs.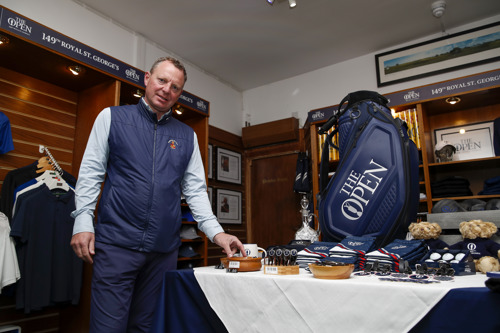 Are you asked to walk with any players during the week to give them tips or hints on how to play the course?
I haven't yet but I probably will be asked the question on the official practice days. If any of the players pop in and ask we'll be on-hand to give advice, as Ben Curtis did in 2003. He arrived three or four days prior to the official practice days and he gained lots of good, local knowledge and he went on to become the Champion Golfer that year. When you're playing links golf, especially Royal St. George's, you do need to put in the preparation and the hours on the course. You need to get a feel for the course, for the turf, but also each hole changes direction. There are lots of cross winds that aren't catered for so local knowledge does help.
Have you seen any players come down ahead of this year's Open Championship?
We had Matthew Armitage down recently after winning his first European Tour event, I think he's the only one. We'd normally get a lot more but with COVID-19 and the impact that's had on travel it's been difficult. We normally get a few of the Surrey-based European Tour professionals come down because it's close, but not so much this year.
Where are the players going to be most challenged at this year's Open?
They will be challenged because of the routing of the course, not one hole runs in the same direction, so all 18 holes are in different direction and change direction. The fairways are undulating as well. There are lots of uphill and downhill lies to play so it will involve some strategy. They will enjoy playing this course. There are 18 brilliant holes and they all play very differently from first thing in the morning to last thing at night. It's a great challenge. The further you go down off the tee, the majority of the fairways are narrow and strategy off the tee is key.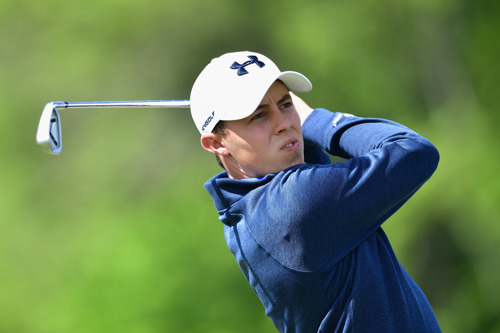 Who do you think might perform well this year at Royal St George's?
I would like to see a domestic player win it. Maybe a player like Matthew Fitzpatrick, he'd be a good choice to be a Champion Golfer. Tommy Fleetwood would be another if he can get his first Major win at Royal St George's that would be very good, but my tip for the week is Matthew Fitzpatrick. You need a bit of luck, control the ball flight and some experience, but experience of the golf course. Matthew Fitzpatrick has played here a number of times before. If you have more practice rounds and more preparation, that will stand you in good stead. Bryson DeChambeau is great entertainment, but I can't see him pulling it off. Jordan Spieth could perform well because he chips and putts well, but looking back to 2011 you had Dustin Johnson, second Phil Mickelson second so they're in a good bit of form too but I hope one of the youngsters coming through for their first Major that would be very good.
Will you get an opportunity to play in the event this year?
I think if there is an odd number at the weekend then someone from the pro shop will be nominated and I will probably be nominee. I'll have a very busy week, but it will one of these opportunities where growing up you've always wanted to play in an Open Championship so we'll be ready to if needed. If it happens I will be absolutely petrified and I'll need a very good caddie! I play the course most days with members, but playing on Open Championship weekend is a different entity altogether.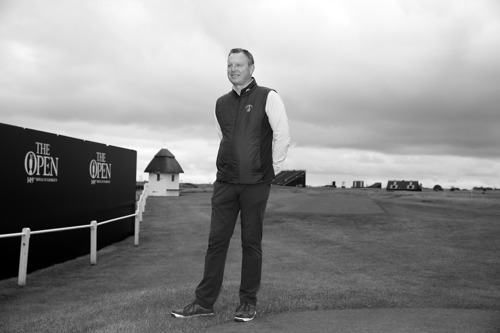 What happens at the end of the event?
We would like to take a break but the week after Championship week is quite full on with members and visitors playing and everyone wanting to play on the links. We have the Club Championship on the Saturday straight after The Open so that's the first of our club competitions with the grandstands still up. Then we go into our members' month so I've got nothing scheduled until October!
What's your biggest take away from hosting the Open?
It's having the Champion Golfer at your club, having players and spectators just enjoying the spectacle of the event, that's key especially given the year-and-a-half the whole country and the world has just had. We also want the players to enjoy the course but also to give it it's just deserve for how good a golf course it is. You will need every shot in the bag for that week. For myself and my team in the pro shop, it's seeing the top players in the world close up and getting to see close up how the prepare for an event, how they practice and how they play. We want to take something away that you can use further on in your career
Justen Fiddler and Paul Larsen (Course Manager - Royal St. George's) were special guest on PGA LIVE - The Podcast. They both speak about the important role they have played in preparing Royal St. George's for the 149th Open Championship.
CLICK HERE or on the link below to listen to the podcast episode.