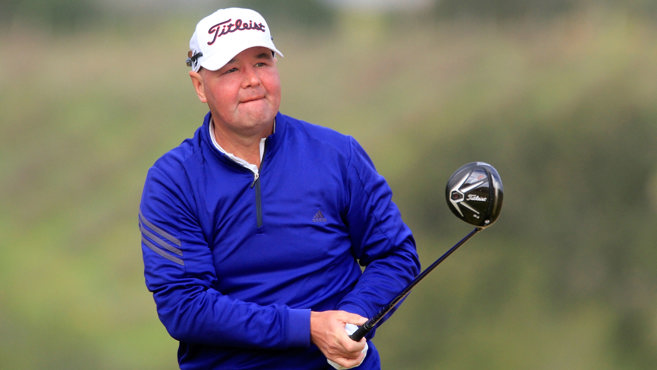 Long-time golfing pals Mark Belsham and Rob Riddell put their wealth of course knowledge to good use to win the PGA South Region's 'Prince's 27' competition over the Sandwich Bay links on Monday.
Belsham, from Sholden, and Riddell, who lives in Worth, were among 52 pairs of PGA Professionals and amateurs who 'teamed up' for the event and with a combined age of 120 – Belsham will be 61 in May and Riddell is 60 – they were the oldest pairing in the 27-hole competition, which took in all three of the nine-hole courses at Prince's – and with a different format for each section.
The opening foursomes over the Shore course was followed by a greensomes over the Dunes, with a four-ball betterball to finish over the Himalayas.
Belsham, who is a former Prince's club professional and Riddell - a three-handicap member of the club - recorded a total of 105 strokes over the three sections to pick up the £500 first prize plus some G4 shoes and Titleist golf balls. They finished one shot in front of Essex professional Rob Coles and his amateur partner Saul Saywood.
Belsham, who will be opening his new coaching academy at Manston later this year, said: "I coach Rob and he used to caddie for me when I was playing on the European Seniors Tour, and we've been playing together for years.
"The Prince's 27 competition's unique format is great fun but you've certainly got to keep focussed, especially as we a strong wind to cope with as well. I putted well on the Shore and Dunes sections and then Rob putted really well on the Himalayas to just give us the edge at the end."
CLICK HERE to view a full leaderboard from The PGA's 'Prince's 27' competition.