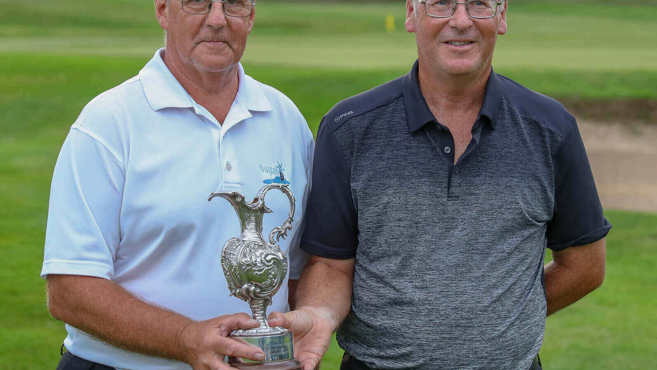 New partner, different venue, same result – victory in a national PGA tournament for Stephen Bennett.
That's how the past eight days have unfolded for the head PGA Professional at Waltham Windmill Golf Club, Lincolnshire.
Having won the Staysure Trophy in tandem with Waltham Windmill member Martin Quickfall at the London Golf Club, Bennett followed up with victory in the PGA Super 60s Championship at Leeds Golf Centre.
The tournament is contested by a PGA pro and amateur partner, both of whom must be aged 60 or over, and this time he played alongside Eric Davis, another Waltham Windmill member.
Davis, a ten-handicapper, was a late call-up for the tournament and Bennett explained: "My original partner dropped out because of injury and Eric kindly agreed to play at very short notice.
"Which is just as well as his putting in the first round effectively kept us in the tournament."
That red-hot putter, which fashioned a nett birdie on the par-four 18th, resulted in the pair posting a three-under-par-round of 69 to be five shots off the lead.
With one pair on six-under, four on five-under and Tony Price and his amateur partner Derek Sanders leading the chase for the £1,250 winner's cheque on eight-under, the odds on Bennett claiming a second tournament triumph in little more than a week were long.
His and his partner's response was emphatic, however. A better-ball ten-under par round of 62 was the best posted in the tournament and, although their 13-under-par total of 131 was matched by PGA pro Paul Carrigill and his amateur partner from nearby Moortown Golf Club, David McCarthy, they prevailed on countback.
This time Bennett, a former European Tour player, proved the pair's trump card in a round that featured eight birdies and an eagle at the par-five 15th.
Reflecting on his display he said: "As well as winning the Staysure Trophy, I qualified for the last two rounds of the Staysure PGA Seniors Championship last week.
"But I was disappointed because my short game was horrendous. But it was great today. I played really nicely – I was about eight-under."
Davis, meanwhile, was still trying to compute not only being catapulted into the final of a national competition but also winning it.
"I did not know anything about this until four o'clock on Tuesday afternoon (the day before the tournament)," he recalled.
"I'd captained the club's seniors for two years and when Steve rang the club up saying his partner was injured and could they find someone who was aged 60 or over to play, the young lady running the pro shop thought of me.
"I didn't hesitate although it's the first time I've ever seen a pro hit a golf ball let alone have the pleasure of playing with one."
Davis will have that pleasure again next year when he and Bennett defend their title, as will Tom Melville, a PGA pro attached to Alyth Golf Club, Perthshire, and Jim Kinloch, his amateur partner from Cardross Golf Club.
They won the Superb 70s, the tournament within a tournament for both members of the partnership aged 70 or over.
They also won on countback after the nearest rivals and compatriots, Elderslie Golf Club PGA pro Richie Bowman and Jim Kinloch's bother, Peter, signed off with a bogey and double bogey.