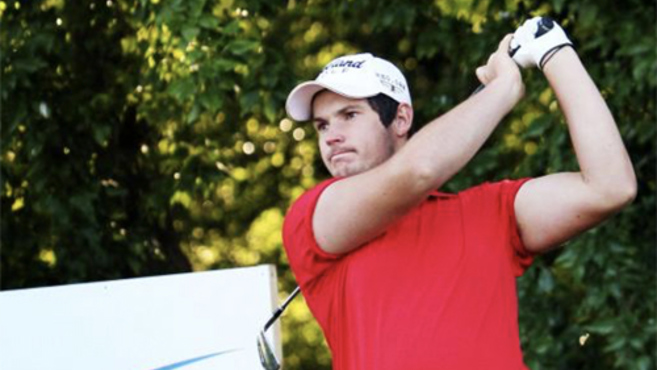 Elliot Bradley experienced an anxious wait playing the final hole of the Coca Cola PGA Assistants' Championship qualifying event at Farleigh Golf Club before clinching his fourth professional victory.
The Oxfordshire-based second year Trainee finished a shot clear of Jordan Loft, of Prince's Golf Club, Kent, but only after his negotiation of the 18th hole was interrupted due to lightning.
Bradley, who recently joined the Cotswolds Hotel, Golf & Spa, Chipping Norton, carded a seven under par round of 66 at the Surrey venue.
But he says all went to plan in the PGA South region qualifier until the final hole of the day.
"I got caught up in the worst of the weather," he explained.
"The storm began at the start of the back nine. But I'd played my tee shot at the 18th and was seven under par, but then they blew the horn for thunder and we had to come off. If it's raining, you can carry on, but lightning means play is suspended.
"So I had to sit in the car and wait for an hour before coming back to play a wedge shot then complete the round. I was worried I'd make my first bogey of the day, but it was okay.
"Other than that, it was the nicest I've ever played and trouble-free until the end."
Bradley became a self-confessed 'golf geek' after he abandoned his teenage ambitions to play rugby union, switched sports and turned pro seven years ago.
"If you'd asked me at age 15 or 16, I'd tell you I was going to play rugby but I got some injuries and started playing golf," said the former PGA EuroPro Tour player.
"I became a golf geek and realised it's more of a game where your individual performance decides how well you do. In rugby, you can have a good game but still lose, and vice versa. I'm happy with the decision I made.
"I went down the PGA Trainee route as I want to strike a balance between playing and coaching, which I also enjoy. The degree will hopefully set me up to do both."
Bradley and Loft will join 26 other qualifiers at the £27,975 Coca-Cola PGA Assistants' Championship final at Farleigh between July 27-29.
CLICK HERE to view the full leaderboard from the Coca Cola PGA Assistants' Championship South qualifier