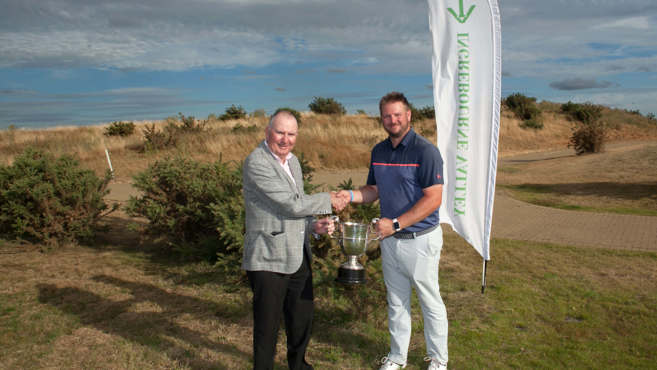 Sean Brady celebrated the highlight of his career to date when winning the historic East Anglian Open at Ingrebourne Links.
Brady, a professional based at Eaton Golf Club, triumphed by a single shot in the £20,000 Order of Merit 'Open Series' event after an exciting two days at the superb Essex venue.
The Norfolk golfer followed an opening four-under-par round of 68 with a gutsy 72 in which he had to show real resolve to close out his success.
It looked to be straightforward for Brady for a while on the second day as he opened up a four-shot lead, moving to seven-under-par.
But as the finishing line drew closer, the odd mistake started to creep in and Gus Mottershead (Hampton Court Palace Golf Club) emerged from the chasing pack.
He birdied the 13th, a hole that 15 minutes later Brady would three-putt for bogey and suddenly the pair were tied at the summit on four-under-par.
But Brady dug in down the stretch and parred the closing five holes, which Mottershead – playing in the group ahead – was unable to do.
On the closing par-5, Brady's chipped approach to a back flag just ran out into the fringe. But he kept his composure and rolled his birdie putt to a foot away before tapping in for a slender and emotional triumph that secured him £3,200.
Brady, 34, said: "I'm overjoyed. To be winning this, after being a pro for eight years, after having cancer and coming back from that, it's amazing.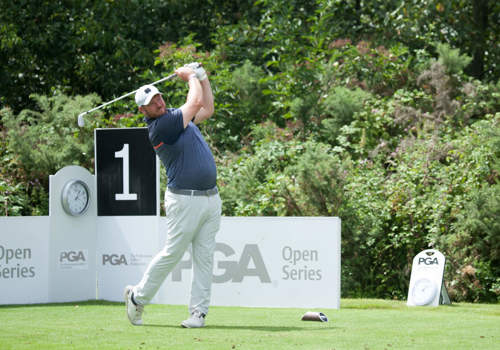 CAPTION: Eaton golf professional Sean Brady recorded the biggest win of his career with a one-shot success in the East Anglian Open. (Rushmer PR)
"There has been times where I've thought this isn't for me. This has proved to myself I can actually compete with these guys. I've had rounds where I felt like I could and then completely blew up.
"But this time I was calm all the way through it – apart from two or three holes. But I managed to steady the ship a little bit towards the end and parred my way in and got it done."
Brady's path to his biggest victory has not been straightforward, having been diagnosed with melanoma skin cancer nine years ago.
And he was quick to thank fellow Norfolk professionals Nic Cains, Chase Davis and Craig Butler for their support through the tough times, as well as Eaton's head PGA professional Mark Allen.
Brady added: "I'm all clear now. I've had a lot of positive people around me to keep me going.
"This means a lot to me – to know I can perform, score and make it happen under pressure. I want to dedicate this to my nanny and grandad, Muriel and Michael Fuller. They've supported me all the way through."
Brady's win lifted him to 13th in the East region's overall Order of Merit, led by Middlesex professional Luke Goddard, who finished third at Ingrebourne Links.
Michael Vandenberg (Rochford Hundred) finished tied-fourth to rise a spot to second in the Order of Merit, just ahead of previous leader Harry Casey (The Shire London).
The final Order of Merit event will take place at Colne Valley near Colchester on August 31-September 1.
CAPTION (lead image): Sean Brady is presented with the East Anglian Open trophy by Ingrebourne Valley chairman John Pryor. (RushmerPR)