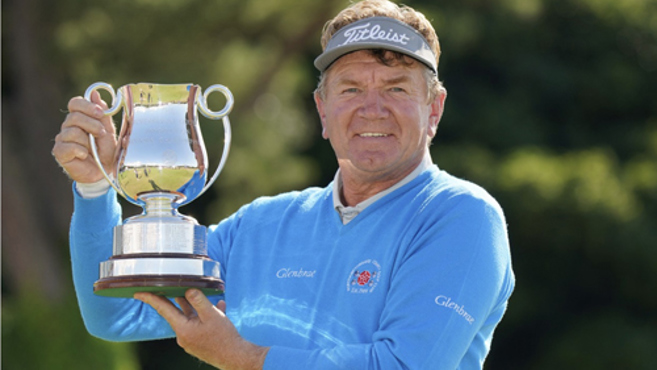 Paul Broadhurst has hailed the positive influence PGA Professional Tim Rouse's coaching continues to have on his game after winning the Staysure PGA Seniors Championship at Formby.
Broadhurst, a member of the 1999 European Ryder Cup team and Honorary PGA Member, first hooked up with Rouse, the head pro at Northants County Golf Club, eight years ago when he was preparing to join what was then known as the European Senior Tour.
"It all started when I played a PGA Midland event at South Staffs and won it," recalled Broadhurst. "We were having dinner afterwards and I told Tim I had no idea how I won or what I'm doing.
"I'd just finished on the main Tour and my game was a mess and I was getting by on experience and not much else. He told me to go along to his club and see if he could help me.
"I played a lot of PGA Midland events, pro-ams and things over a three-year period and tested what we worked on."
That work included a major change to the position of Broadhurst's head when he addressed the ball, an inherent fault that had not been tackled by several top coaches.
"I told him I didn't mind what I did or what changes I made but I had to be ready when I turned 50 in 2015 and was eligible for the Senior Tour.
"The biggest change was the position of my head at address. I worked with a lot of top teachers in the world over the years and nobody ever mentioned how I looked at the ball.
"My head was tilted to the right against my shoulder which got the club whipping inside on the backswing.
"It's something I had struggled with all my career but nobody told me how to cure it. Tim just moved my head so I was looking at the ball square on. That took care of the back swing."
Broadhurst also had considerable issues keeping the ball in play, especially off the tee and Rouse recalled: "When we first started working together, he wasn't a good driver of the ball.
"He struggled to keep the ball in play. We made some changes and he suffered for a year to 18 months but since then he's become very accurate.
The proof of that particular pudding is in the stats and Broadhurst explained: "Last year on the Champions Tour I was number one driving – accuracy and distance combined. Accuracy I was fourth.
"Any pro that knew me on Tour would have said there's no way that can happen because I was about 150th in the stats on the driving. I was so poor off the tee I would hit 40 per cent fairways. Now I hit 75 per cent of fairways. That's been a massive turnaround that's bred a lot of confidence. It's made the game a lot easier."
So easy in fact that, once he became eligible for the European Senior Tour Broadhurst hit the ground running. He won his first event, the Scottish Senior Open, and has not looked back.
Five more victories on the European Senior Tour have followed, a quintet that includes the Senior Open Championship at Carnoustie in 2016. In addition, he has won the John Jacobs Trophy twice as a result of topping the Senior Tour order of merit and racked up another five wins on the PGA Champions Tour in the USA.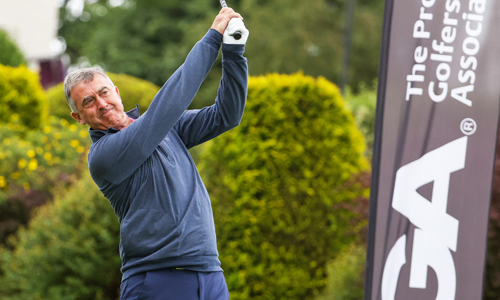 Competing in the PGA Champions Tour events has meant Broadhurst dividing his time between the USA and his home in Warwickshire – a scenario that has resulted in Rouse (above) coaching him remotely.
"If I'm really struggling I send him a couple of videos," Broadhurst explained. "I can almost guess what he's going to tell me. It's either my head position needs altering or I move slightly off it in the backswing.
"It's basically keep your head in the right position and stillness over the ball. That's it really – it's pretty simple but you know what us pros are like. We're looking for other things."
Trans-Atlantic travel earlier this year also caused Broadhurst to contract a debilitating bout of vertigo that made it almost impossible for him to play let alone to the high standards he has attained.
"I had vertigo from March time until about a month ago," he said. "I was really struggling in the States – I was trying to play with it but not doing that well. I managed to see a doctor over there – he'd read about my condition, prescribed some medication and that seems to have worked.
"I've been OK for the last three or four tournaments, so fingers crossed that's behind me."
Another legacy of trans-Atlantic travel has been the need for Broadhurst to quarantine because of the Coronavirus pandemic. However, he was able to meet up with Rouse before the Senior Open at Sunningdale and Staysure PGA Seniors Championship at Formby.
"We had a couple of sessions before Sunningdale and he put some hard work in," said Rouse. "He also said he was starting to feel better and that made a big difference.
"He competed at Sunningdale and got close. That gave him the boost to go to Formby and play at his best."
Broadhurst added: "We met up a couple of times before Formby – it was just tweaks really.
"We worked on squaring up my hips, which felt a bit awkward for a couple of days. But I played well at Sunningdale and took it into Formby.
"You have to drive well round Formby, which I did. I only went in a couple of bunkers all week. You can lay back there to avoid them and have a long second shot but I took it on because I was driving it well and was going in with short irons which I'm sure helped.
"Looking back, Tim's remit when we first got together was to sort me out in three-and-a-half years. He's certainly done that. He's helped me unbelievably and still does - look at my record since I turned 50."