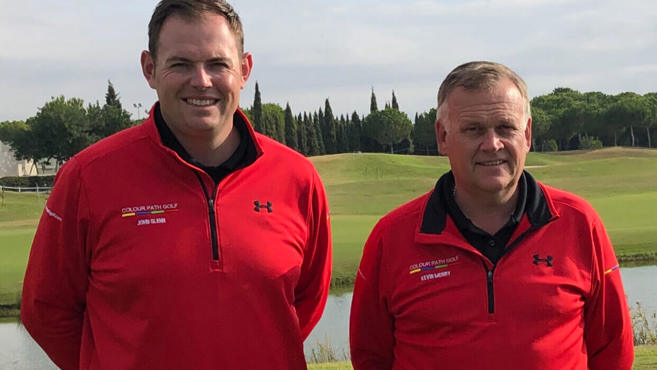 PGA Professionals, John Glenn and Kevin Merry, have developed an innovative approach to coaching that works for any golfer and coach.
The founders are sharing it with other PGA Professionals who are keen to grow the game through offering a simplified solution to learning.
Colour Path Golf was designed to quash the uncertainties that come with communicating instruction and by using just four colours; yellow for 'attention', blue for 'cool and calm', green for 'acceleration, relax & go' and red for 'speed, power and control', the concept can test, measure and provide proof of fast-track results.
Glenn explains: "We start by performing some quick tests to determine eye and arm dominance. We are always amazed at how few students (and coaches) are aware of these key elements and how they can be used to their advantage when executing a golf swing.
"For us, the most powerful five minutes in golf is when we ask a student to build out a representation of their intended shot shape. We see around 95% of students build out their swing fault as they lay down the kit and on changing their understanding of this, they start to see results they never believed were possible."
The Buckinghamshire-based duo have not only enjoyed success in their locally, but have seen their idea take off globally now being used in 18 countries with their biggest success story being in South Korea where in the last six months over 55 Korean Coaches have been trained in and are using Colour Path Golf to revolutionise the way they deliver instruction to their students.
Glenn comments: "We were approached by a Korean Instructor called Jong who is renowned for teaching the Korean LPGA, PGA Tour players and PGA coaches. He'd seen our website and immediately 'got' our colour-based learning techniques. With colour being seen as a universal language, we've received many enquiries from PGA professionals in China, Thailand and Europe with our approach making learning so much easier for both the student and the coach."
So, what is Colour Path's appeal? Merry explains: "Golfers are often a lot more skilled than we might give them credit for. They are actually replicating what they believe to be the correct motion, but our job as professionals is to simply open their eyes to where things actually need to be by utilising coloured reference points. This new level of understanding helps to create a chronic learning environment with positive and lasting effects."  
Glenn adds: "We like to say, 'You're only ever 10 swings away from changing the way you play'. In an online world, golfers especially expect quick solutions to their golfing problems as they have instant access to online quick fixes 24/7, but Colour Path Golf does all of this and more with the launch of our new 90/90 e-Coaching Program."
Colour Path Golf workshops for PGA Professionals are running from February 24 to March 31 with a view to guiding coaches on how to make use of the concept to expand their earning potential, achieve more success for them and their students.
To register your interest or find out more information, contact John Glenn on 07733 112 669 john@colourpathgolf.com.