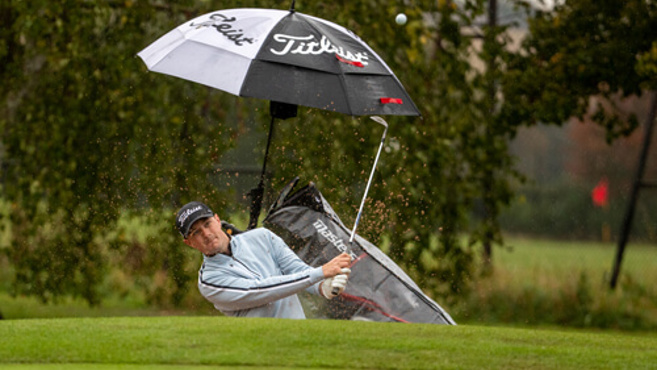 Two serial winners in Mike Bullen and Jamie Brittain set the pace in the opening round of the Coca Cola PGA Assistants' Championship at Oakmere.
Bullen, the defending champion and 2019 PGA Play-Offs winner, and Brittain (pictured), who topped last year's PGA Midlands Order of Merit, negotiated the Admirals course at the Nottinghamshire club in four-under-par.
Their advantage at the head of the 120-strong field vying to join a roster of previous champions that includes former Open and US Open champion Tony Jacklin and claim the £5,000 first prize is a slender one, however.
They are a shot clear of Joe Simpson, Greg Dalziel and Nicholas Cunningham and two ahead of a substantial posse who posted two-under-par rounds of 70.
Drawn in the same three-ball, each wasted no time in serving notice of what was to come with a birdie at the par-five first.
Bullen, who will play in next month's BMW PGA Championship at Wentworth as a result of winning the PGA Play-Offs in Turkey, recorded four more birdies and wobbled just once with a bogey at the par-four 10th.
Brittain, meanwhile, enjoyed a bogey-free round on a course he had the benefit of sampling competitively when he played in the Oakmere PGA Midlands Open last month.
Bullen, by contrast, first encountered the venue when he played a practice round on the day before the tournament. Not that he had any complaints about the course.
"The course was really good," he said. "The greens were perfect and there are some tricky holes. There are a couple of funny ones as well but overall it's a good test of golf to be fair."
Both, however, benefitted from the best of the weather thanks to their morning tee time.
"We probably had the best of the weather this morning," Bullen added. "There wasn't any wind on the front nine but it started to pour on the back nine.
"That made it a bit of a grind but I played pretty well. I putted well and am pleased with a 68. It's a good start."
Full scores can be found here