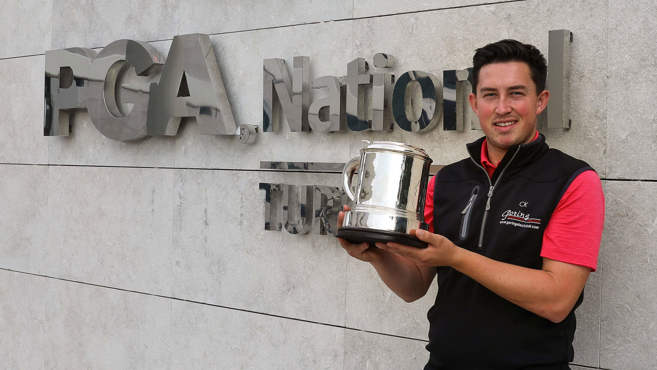 Mike Bullen recorded another triumph in a success-laden season by winning the PGA Play-Offs at Antalya Golf Club, Turkey, and completing a unique treble.
The 26-year-old, who is attached to Rustington Golf Centre in West Sussex, qualified for the event by winning the PGA Assistants' Championship.
And he went into it at the home of the PGA National – Turkey buoyed by victory in Australia's National Futures Championship at Ballarat Golf Club.
He won both those tournaments by prevailing in play-offs and, in what was a tense and engaging finale on the PGA Sultan course, he came within a whisker of having to endure a third.
However, the steely manner in which he retrieved a two-shot deficit over the last three holes to pip Colm Moriarty and Jason Levermore for victory suggests that would not have been a problem.
Until the trio headed up the par-five 16th, Ireland's Moriarty and Levermore of England had effectively been engaged in a private battle for the £3,500 first prize and qualification for next year's BMW PGA Championship at Wentworth.
A bogey at the 11th had left Bullen three shots behind Moriarty and two adrift of Levermore and, despite back-to-back birdies at 13 and 14, he was still two-shots shy of his rivals when he teed off at 16.
A birdie there reduced the deficit to one and another at the par-three 17thcoupled with Levermore three-putting to drop back to 10-under, left him and Moriarty level on 11-under going up the last.
Both were wayward with their approach shots, however, and missed the green. By contrast, their recoveries were almost exemplary.
Bullen left his eight foot from the hole from where he saved his par but Moriarty, who was half that distance away, did not.
"You don't want to win it like that," said Bullen, who held his head in his hands as his rival's putt flirted with the hole. "He had been putting well all day and I thought he'd roll it in.
"I was thinking what hole we'd have a play-off on – it was unfortunate he missed but it worked out for me, I guess."
Reflecting on his year, he added: "I can't grumble. I've had a really nice year and I'm proud of my achievements.
"The PGA has opened some doors – I've been to Australia through winning the Assistants' Championship and now Turkey."
Having won in three countries this year, Bullen will now attempt to round it off with victory in a fourth.
"I'm flying to Bahrain tonight," he explained. "I've got a tournament out there – the winner gets a start in a Tour event so I'll see what I can do."
In terms of Tour starts, winning the PGA Play-Offs has already qualified him for two.
In addition, to the BMW PGA Championship at Wentworth, he booked his place in the Betfred British Masters at Close House, Newcastle, where he will be joined by Levermore and Moriarty plus Craig Lee and Andy Willey who finished fourth and fifth respectively.
Leading scores: M Bullen (Rustington Golf Centre) 202 (-11); C Moriarty (Glasson Hotel & Golf), J Levermore (Little Channels Golf Centre) 203 (-10); C Lee (Craig Lee Golf Studio) 206 (-7); A Willey (Oakmere Golf Club) 207 (-6); P O'Hara (North Lanarkshire Leisure Ltd), G Davies (Abbeydale Golf Club) 208 (-5)
A full list of scores can be accessed via this link