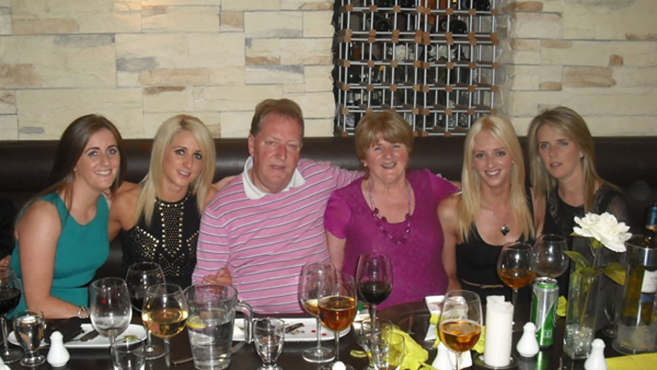 John Burns, the Irish Assistants Champion in 1971, is back on the golf course after winning the toughest battle of his life – overcoming COVID-19.
Burns, 69, has played nine holes at Mullingar Golf Club, Co Westmeath – the club he served for 41 years as head PGA Professional – for the first time after spending more than a month in hospital fighting the disease.
Not that he knew anything about 14 days of his five-week stay at the Midland Regional Hospital, Mullingar.
"I was on a ventilator in intensive care for a fortnight and it's a complete blank," recalled Burns, who was made an honorary member at Mullingar when he retired in 2015. "I didn't know anything."
Burns, however, will not forget the reception by hospital staff when he was discharged.
"There were loads of nurses and cleaners standing at the top of the stairs waiting for me when I left the room to go home.
"They were clapping and cheering and that brought tears to my eyes. I thought I had won the Lotto but when I got halfway down (the stairs) I thought to myself 'This is much better than winning the Lotto'.
"They were brilliant – the doctors, nurses, physios and cleaners all went over the top and couldn't do enough for me. They gave me the feeling everything was going to be alright."
Despite the optimism and positive messages, their efforts looked set to be futile at one stage.
"I wasn't looking good at all until they used an anti-malaria drug and started getting results," admitted the father of six.
Four of those children are girls and Shauna, pictured second left, admitted they all feared the worst.
"Morning and night we were living for the phone calls from ICU sitting by the phone to get an update," said the 32-year-old nurse who returned home from her job in Saudi Arabia to be close to her father and siblings.
"It was so difficult, we couldn't see him or visit him and the worst was going through all of our minds.
"We couldn't even see each other and comfort each other because we were isolating."
Reflecting on his ordeal, Burns added: "I'm out the other side of it now and I can speak a little about it.
"People won't realise how serious this is until it happens to them so they must listen to the experts.
"My story offers a little bit of hope for people and I hope they will get better."