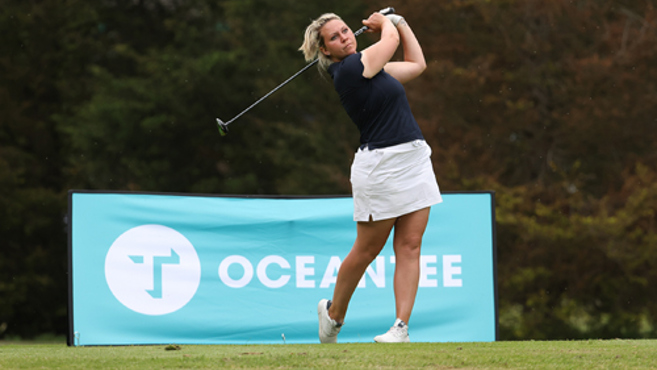 Emma Carberry made up for lost time and discovered what she had been missing in winning the latest event in the OCEANTEE WPGA Series at Three Rivers Golf and Country Club.
Carberry, a third year PGA Trainee who is attached to the Ryan Fenwick Golf Academy, East Sussex, was playing in a WPGA tournament for the first time.
Not that that was apparent given the way the 29-year-old kept her cool when the heat was on in the closing stages of her negotiation of the Essex course.
Three birdies in the last five holes resulted in a two under par round of 72, a one stroke advantage over the field and the £700 first prize.
All of which contrasted sharply with what is best described as an inauspicious start, a double bogey at the par-four second.
She recovered to reach the turn in level par but at that stage the likely winner appeared to belong to a substantial posse that included Maria Tulley, Katie Rule, Sarah Walton and Catherine Panton-Lewis.
A bogey at the par-four 11th reinforced that view then, as her rivals, aside from Tulley, wilted, Carberry blossomed.
Birdies followed at 14, 15 and 17 and she was a whisker away from signing off in style with a fourth at 18.
Tulley meanwhile birdied the 17th for a one under par round of 73 to finish runner up for the second event in succession.
Any disappointment the 2019 WPGA Cup player harbours, however, may well be tempered by the £550 she earned as well as establishing an eight-point lead over Carberry and Jessica Smart in the Order of Merit.
Smart won the first event at Little Aston but did not play at Three Rivers; Carberry, having missed the season's opener, had decided to play in as many as possible prior to striking gold first time out.
"Covid made playing last year very tricky – events were getting cancelled," she explained.
"And then the year before that I was settling in. I played in a few regular PGA events then and this year I was determined to play in as many WPGA events as well."
Reflecting on her dream debut, she added: "I think just patience was the secret of my success.
"It's a course you must plot your way around. You've got to keep thinking, keep your concentration, be aggressive when you can but also play conservatively as much as you can.
"You can't just bomb it round here, you have to be strategic. I like that kind of golf – I like to think my way around.
"It wasn't a bad way to start, was it? First one, first win. It's awesome."
CLICK HERE for a full list of scores