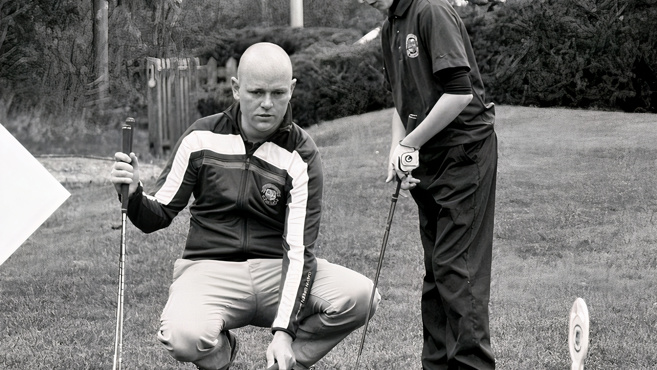 PGA Professional Adam Chamberlain, based at Peterborough Milton Golf Club, has been nominated for the 'Participation and Development Coach of the Year' at the England Golf Awards 2022.
The nomination came as a shock to Chamberlain: "I didn't know anything about it at all, so it was a complete surprise. I've never been great with awards, it's not why I do the job, but to be nominated in such an important category is an honour. Having recognition for all the hard work over the years feels nice."
When asked why he thought he was nominated, Chamberlain said: "I think it's a combination of things over the last year. There's all the continued work we do with the juniors, but there have been a few additional bits involving members as well."
A modest answer from Chamberlain, but he has had a huge impact with providing opportunities for local children to learn the sport. There have been lessons with schools, Brownies, Beavers, Guides and a disability group called 'Little Miracles'. On top of this, Chamberlain went above and beyond when he made an elderly member's final wish come true by delivering a golf lesson to his autistic grandson in their garden, so that the gentleman could watch on with joy from his patio.
Junior coaching is clearly something that Chamberlain is incredibly passionate about. Having a son that is just taking up golf himself and seeing so many kids playing golf at Peterborough Milton GC, Chamberlain says that when he takes time to reflect, he is proud of what he has achieved at the Club.
"As PGA Professionals we are lucky to do what we do, so it's about giving back to the game by encouraging the next generation."
Chamberlain explains that going into local schools is something they do every year. Despite only a small number deciding to join lessons at the golf club, he talks about the positive impact it has.
"It is important for PGA Pros to keep going into schools to give kids a chance to try golf. If they aren't getting exposed to the sport from a young age there is obviously much less chance they will play the game in the future. You also reach children from different backgrounds and there is definitely more diversity in the juniors learning golf now than there has been in the past."
The success of junior coaching at Peterborough Milton GC shows no signs of slowing down. After a stop-start few years due to the Covid-19 pandemic, Chamberlain explains that everything is back in full swing now.
"We currently have over 40 juniors on the weekend coaching programme from 4-12 years old and are consistently busy. It has reached the point where we are almost at capacity and a few sessions even have a small waiting list."
The England Golf Awards virtual ceremony, hosted by Naga Munchetty, will be broadcast live on England Golf's YouTube channel on Wednesday 20th April from 6.30pm.