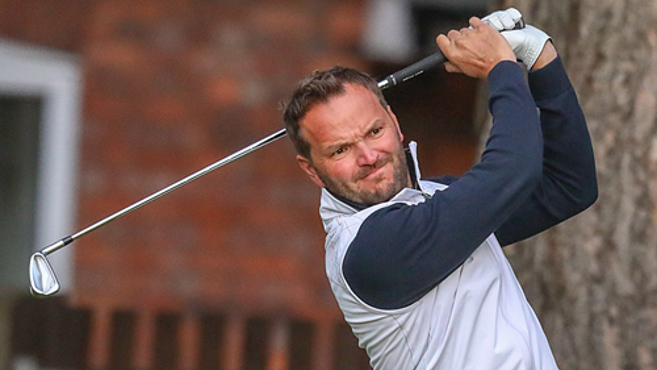 Lee Clarke will be hoping history repeats itself when he lines up in the Golfbreaks PGA Fourball Championship final at Carden Park.

It was at the Cheshire venue that the Wollaton Park Golf Club professional won the title in 2015 with Jack Lynch.

But now former PGA Cup player Clarke (above) is returning there for this year's showpiece event after winning the Midlands qualifying event at The Staffordshire Golf Club in Dudley.

This time he was partnered by Andrew Willey of Oakmere Park Golf Club in Southwell and the duo carded an eight under par round of 63.

They won by one shot ahead of Adam Keogh (Woodhall Spa Golf Club) and James Freeman (Retford Golf Club).

Those pairings will join eight other qualifiers in the final to be held between 24-26 August.

It is an occasion that Clarke is relishing after rediscovering his form and with fond memories of the course.

"I've finished first and third there so I'm really looking forward to going back," he said.

"I love it around there, it's a great course.
"And I'll be playing it with my best mate, someone I've known for 20 years."

The Dudley result was an important one for Clarke whose game had gone through a shaky patch.

"Form is never far away, but a lot of it is confidence," he explained.

"If you're feeling good, you can use a stick of celery and a pickled onion can't you!

"I'd not been playing well, it came back last year but then Covid kicked in. I'm not one of these guys who can just turn up and play, I need a bit of momentum. Most things were cancelled last year.

"I never really bothered with this completion in recent years after two good performances in the final, but I decided to have a go again this year with my best buddy and we did all right.
CLICK HERE for a full list of scores