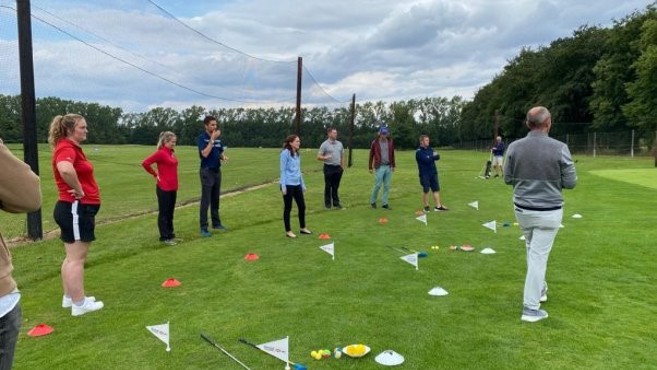 England Golf is set to launch a series of new Club Activator Courses to provide specialist training for volunteers who help their PGA Professionals with recruitment drives and beginner sessions at local golf clubs.
The scheme is supported by a £50,000 grant from The R&A and backed by The PGA and the Golf Foundation with the first scheduled to take place at the National Golf Centre, Woodhall Spa, Lincolnshire, at 5pm on Monday 27 September.
The courses are led by an expert team of tutors and provide interactive and practical advice to enable attendees to learn the skills needed to support PGA Members as they endeavour to bring new golfers into the game. With interest in golf growing substantially they could not have come at a better time.
Each of the courses is three and a half hours long and all attendees will receive a certificate, workbook and games cards. Thanks to the support of The R&A, for a limited time, the course will cost just £15, instead of the usual £50. Minimum age for attendance is 14.
Full list of Club Activator Courses:
National Golf Centre, Woodhall Spa, Lincolnshire - 5pm Monday 27th September, 2021.
Addington Court Golf Centre, Surrey - 2pm Sunday 3rd October, 2021.
Stafford Castle Golf Centre, Staffordshire - 1.30pm Sunday 10th October, 2021.
Leyland Golf Club, Lancashire - 2pm Sunday 10th October, 2021.
Ramside Hall Hotel, Golf & Spa, Durham - 1pm Sunday 17th October.
Broadstone Golf Club, Dorset - 11am Sunday 17th October, 2021.
The aim of England Golf's Club Activator Courses is to train a new workforce of 500 Activators over the next three years and to provide them with the skills required to help attract more newcomers into the game.
The target is for at least 30% of the trained Activators to be women and the intention is to support more women to move into PGA coaching through the programme.
"We all know learning to play golf isn't easy and that professional tuition is the key factor in turning people into golfers," said England Golf's Head of Participation, Rob Drinkwater. "However, playing and practising are the other fundamental elements and making this as enjoyable as possible is where the Activators come in. What we are trying to achieve is a supportive environment in which people of all ages can get their first taste of the game.
"The training courses will give the Activators the skills to help set up, supervise and deliver non-technical games and activities to suit the audience, whether that's juniors or adults, and it should be stressed their job won't involve coaching, so you don't have to be a great golfer to be an Activator.
"It is enthusiasm were looking for which, when coupled with the skills of a PGA professional, will help more people to participate and enjoy the game of golf for life."
That was a view echoed by PGA Chief Executive, Robert Maxfield, who said: "PGA Members are the gatekeepers of the game of golf, they do an incredible job in helping hundreds of thousands of people to access the game through coaching.
"We want to help our members by providing them with a way to reach even more people, especially juniors. The Activator programme does just that."
"The scheme enjoys the strong support of The R&A," confirmed Kevin Barker, Director of Golf Development. "It recognises the importance of growing the sport and having a trained work force to support PGA professionals through the activation of targeted initiatives. The R&A has provided funding to England for the Activator programme over a three-year period and to similar programmes in the other Home Nations."
CLICK HERE to view more information about this year's Club Activator Courses.