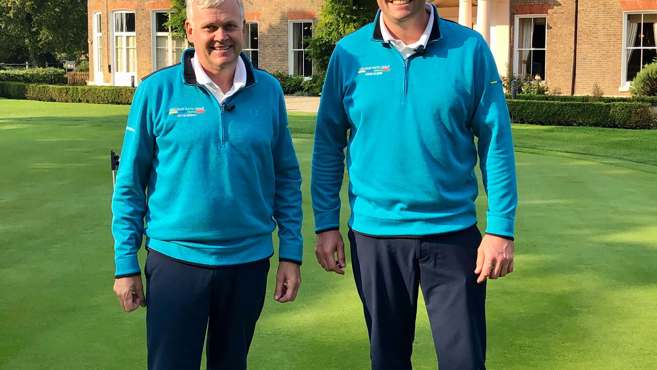 Colour Path Golf has announced a new partnership with with the Ladies Professional Golf Association LPGA Foundation to introduce the game to more individuals, particularly young women and girls around the world.
Created by PGA Professionals John Glenn and Kevin Merry, Colour Path Golf has become an innovative teaching force with more than 100 certified instructors teaching the system worldwide.
The unique learning process takes the form of following an easy to understand colour coded system to influence the sequence of movement in the golf swing.
The teaching concept of Colour Path Golf is designed to give golfers of any age or expertise a variety of fun and enjoyable learning experiences, by transferring information in a simple to follow visual way.
Nancy Henderson, President of the LPGA Foundation, commented: "We are delighted to Partner with Colour Path Golf, as they will provide our LPGA Members and Girls Golf Site Directors with an exciting opportunity to learn a unique colour-coded teaching concept utilising four specific colours as a communication tool, helping to simplify the learning process of golf.
As an Education Partner, Colour Path Golf aim to provide a variety of fun and engaging content to incorporate their concept into existing training programmes and coaching sessions teaching through the language of colour.

The partnership will also allow LPGA Members and Girls Golf Site Directors a fantastic opportunity once certified, to have access to exclusive partnership discounts, new ongoing coaching ideas, educational resources and webinars with its founders through their video call support platform.
One of the key aspects of the partnership is the creation of a coaches networking group, whereby best practice in how to utilise the training kit within lesson programmes for both individual and group coaching is shared amongst the members.
"We are very excited to begin a working partnership and be recognised as an Education Partner to the LPGA Foundation," added John Glenn, Co-Founder of Colour Path Golf.
"This association allows us a fantastic opportunity to assist, support and share with LPGA Members and Girls Golf Site Directors our online certification programmes, ongoing library of educational resources including bespoke content that compliments existing coaching programs supported by the LPGA, along with further partnership member benefits.
"The partnership also brings the launch and release of our new dual branded kit pieces which we are pleased to announce are made and manufactured from 100 per cent recyclable materials."
For more information about Colour Path Golf, please visit www.colourpathgolf.com.