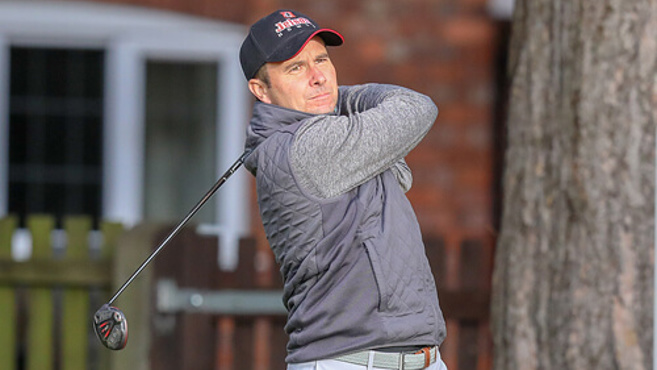 Matt Cort began his quest to win the PGA Midlands Order of Merit for a sixth time with a three-stroke victory in the first event of the series, the Oakmere Midland Open.
In doing so, however, he had to deliver the joint-best round of the tournament and come from behind to prevent Andy Willey from recording a 'home' win for Oakmere.
Willey, who represents the Nottinghamshire club, had posted a two-under-par total of 70 to lead Cort by a shot at the end of the tournament's first round.
Come the halfway stage of the second and final negotiation of the course, which will host the Coca Cola PGA Assistants' Championship next month, the pair had swopped places.
Not because Willey had played poorly – three birdies and no bogeys to be five-under at the turn is testament to that.
His rival from Beedles Lake Golf Club, Leicestershire, however, was in coruscating form.
Having served notice of his intentions with a birdie at the par-five first, Cort followed up with four more to establish a shot advantage going into the back nine.
That birdie bonanza had featured three in a row from holes seven to nine and another at the par-five 11th extended his lead to two shots.
Thereafter his progress, by comparison, was sedate. The solitary blip in his round, a bogey at 14, was erased by a birdie at 16 and resulted in a six-under-par round of 66 and a seven-under return for the tournament.
Willey, meanwhile, also lost momentum. Bogeys at 13 and 14 effectively sabotaged his chances of victory, although a birdie at 16 trimmed Cort's winning margin to three shots.
Cort, who earned £780 for his victory and leads the Order of Merit by 30 points, and Willey were just two of a quartet of players to post sub-par scores.
Rugby Golf Club's Jack Malone, who matched Cort's six-under-par on day two, finished third on two-under and Simon Lilly of De Vere Staverton Estate was a shot further back.
Jamie Brittain, the 2019 Order of Merit winner who represents the Matthew Lea Golf Academy, finished fifth on level-par.
Full scores can be accessed here