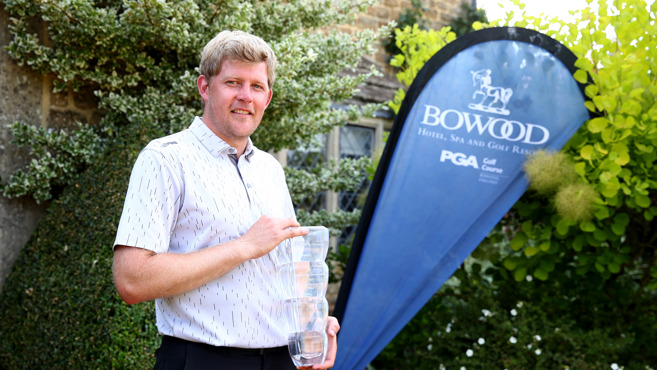 "This would have been a good tournament without you," joked PGA Captain Bernard Gallacher prior to presenting Adam Keogh with the trophy for winning the English PGA Championship at Bowood.
As a back-handed way of complimenting the winner's display, however, the three-time Ryder Cup captain was spot on.
Having posted a course record-equalling nine-under-par round of 63 to establish a seven-shot lead on day one and extended that to eight on day two, the £5,000 first prize was Keogh's to squander in the final round.
But once the pro from Woodhall Spa Golf Club overcame an early wobble of a bogey at the first – his second and last of the whole tournament – his pursuers were left to scrabble for the runner's up berth.
In the event, that was occupied by James Ruth of China Fleet Golf Club, Cornwall, who finished seven shots behind Keogh after posting a four under par round of 68.
Keogh, meanwhile, cushioned by his substantial advantage and with no need to engage top gear, was effectively in cruise control en route to posting a three-round total of 15-under.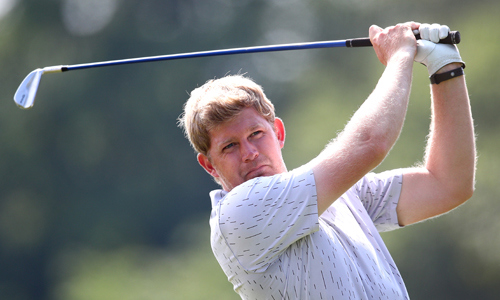 As a result, his two under par round of 70 was, figuratively speaking, his worst of the tournament but it was exactly what was needed.
"The plan was to play my own game," he explained. "I knew if I got it under par for the day I should be OK and that was ultimately my aim.
"I've had two bogeys this week and both have been three putts. Today's came on the first when I was a little too aggressive.
"That wasn't the game plan but It didn't create any doubts and I bounced back from that.
"You just have to hit good shots and I hit a really good one into the second hole but unfortunately missed that putt.
"I did get a little tentative as the day went on but the good work was done on the first two days."
Especially on day one. The nine-under was his best in a tournament, eclipsing the bogey-free seven under he posted on his last visit to Bowood in this tournament two years ago.
All of which suggests he rather fancies this Dave Thomas-designed course and would like to dig it up and relocate it to Lincolnshire.
"It's my second visit here and both times have been stunning," he confirmed. "Two years ago I was lucky enough to finish second and have gone one better this year – I love it."
CLICK HERE for a full list of scores