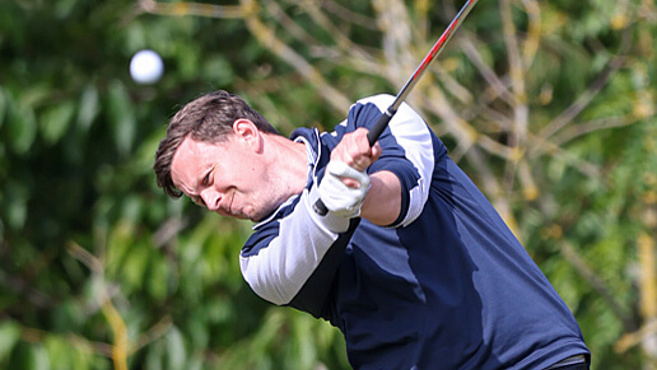 Joe Cruse turned his first visit to Bristol Golf Club into a magical mystery tour de force to lead the PGA Open Series PGA South West Open at the end of the first of two rounds.
The tournament is one of a seven new regional Order of Merit events that allow players from other regions to compete, but Cruse kept his rivals from near and far at bay with a two-under-par round of 68.
And just as the PGA Open Series is a new concept, so too was Cruse's negotiation of the course on the cusp of Bristol that is flanked by the M5 motorway on one side and overlooks the Severn estuary on the other.
"I hadn't played the course before, so I was winging it a bit," admitted Cruse, clutching his eight-month-old son, Teddy, following his round.
Cruse attributes a lack of practice due to the infant's arrival but the pro from St Enodoc Golf Club on Cornwall's north coast, looked anything but unrehearsed, especially in the windy conditions.
"I always back myself in the wind, I'm used to it down at our place," he added. "I feel it helps me a little bit. I haven't looked at the forecast but hopefully it blows again tomorrow."
Cruse put daylight between himself and the rest of the field thanks to back-to-back birdies at 15 and 16 and a par-saving up and down at the last.
However, his lead in pursuit of the major portion of the £20,000 prize fund is a slender one.
The leaderboard that is as congested as the adjacent motorway during rush hour features a quartet of players comprising Nico Els, Ryan Pope, Guy Mottershead and Alex Belt on one-under and four more on level par.
CLICK HERE for a full list of scores.