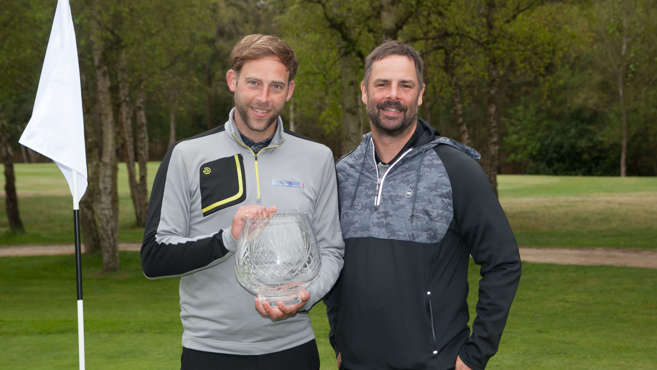 Chris Cutchie (Colchester) and amateur partner Phillip Clarke made it back-to-back victories in the Searles PGA Spring Classic, staged this year at Hunstanton and King's Lynn.
The pair mounted a successful defence of their title, winning by a solitary point with a total of 79.
Cutchie and Clarke, whose world handicap index is 4.8, were tied at the top on 38 points after the opening-day foursomes at Hunstanton.
Also at the summit at the halfway stage was Cutchie's fellow Colchester Golf Club professional Mark Baker, alongside his playing partner Paul MacNaught.
The two duos remained firmly in contention all through the second day better-ball at King's Lynn where Andrew Coleman (Millbrook) and Chris Thornhill also delivered a strong challenge.
But it was the dove-tailing of Cutchie and Clarke that proved telling as they recorded 41 points to emerge victorious by the slenderest of margins.
Cutchie said: "It's been a fantastic two days. Phil and I are such good mates and we had good fun.
"We played the shot holes really well in the foursomes – two net eagles and a net birdie – and didn't drop a shot in the four-ball format. It was fairly solid, a bit of luck here and there.
"So we're very happy. It's nice to win it two years in a row – absolutely brilliant – and we'll have a go again next year."
Coleman and Thornhill prevented a Colchester one-two by claiming the runner-up spot on countback from Baker and MacNaught.
Jason Groat (Denver) and his wife Alison came storming through on the second day to finish in sole possession of fourth after piling up 43 points.
The tournament marked 22 years of much-appreciated and staunch support of the Spring Classic by north Norfolk leisure resort Searles.
CLICK HERE to view a full list of scoring from the Searles PGA Spring Classic.
Picture caption: Chris Cutchie and Phillip Clarke enjoy the moment after winning a second successive Searles PGA Spring Classic