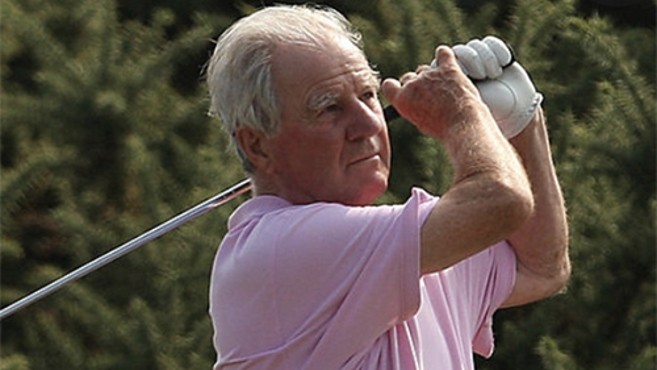 The PGA is greatly saddened to report that David Snell, an Honorary Member and acclaimed course designer who excelled at the game's elite level, has passed away at the age of 87.
Although short in stature, standing just 5 foot 6 inches tall, David was a larger-than-life character who was as funny as he was intelligent according to his great friend and contemporary Hedley Muscroft.
He is also described as one of Great Britain and Ireland's best players never to have played in the Ryder Cup.
That should have been his reward for defeating Harry Weetman 3 and 2 in the final of the 1959 News of the World Matchplay at Royal Birkdale.
However, unlike the winners of the 1957 and 1961 editions of the tournament who earned automatic selection for the team, David missed out.
"He crossed swords with one of the officials and was not selected," Muscroft explains. "He was probably the only Matchplay champion not to play Ryder Cup."
Muscroft does not elaborate on the contretemps but David's ever-present sense of fun and penchant for arriving at tournaments on a motor bike with his clubs strapped to the fuel tank probably did not meet with approval from officialdom in the staid late 1950s and early 60s.
That was when he was in his pomp as a player and Muscroft, an Honorary PGA Member himself recalls: "David was a great striker of the ball and he had a very long backswing.
"It was incredible. Sometimes at the top of the backswing he could hit the back of his left leg.
"We had some wonderful times and did a lot together. We played on the Seniors Tour and did a lot of corporate days. We also had a company at the end of the 60s called Rent a Pro Golfer. That was with Liz Kahn and it was quite successful for a while."
Away from the golf course, David was a keep-fit fanatic and an accomplished poker player.
In which case, his decision to lease 155 acres from Worksop College, Nottinghamshire, and build College Pines Golf Club in the early 1990s and run it with his family could be construed as a gamble.
Not least because Worksop Golf Club and Lindrick – clubs David had been attached to for 24 and five years respectively were near neighbours.
"The eighth green at Worksop and our sixth green are probably only a good nine-iron apart," explains Oli Simms, a PGA Professional who has risen through the ranks from trainee to become the club's manager.
"They're ever so close. I don't know how that went down at the time."
The venture has proved a resounding success, however. Opened in 1994, it flourishes today and David was involved with it until shortly before his passing.
"David was very hands-on," says Simms, who began working at College Pines in 1999 as a 15-year-old.
"He played frequently and was involved with everything up until the last few weeks.
"He was quick-witted, very dry and a very kind gentleman – you don't get many of those, really. No one had a bad word to say about him – that's not true of many people.
"What's more, founding your own golf club and knowing it's going to be here for decades after you've gone is quite a feat. It's one that not many people achieve in a lifetime."
David is survived by Ann, his wife, daughters Juliet and Rebecca, and sons David junior and Charles, fellow PGA Professional. The PGA extends heartfelt condolences to them on their loss.