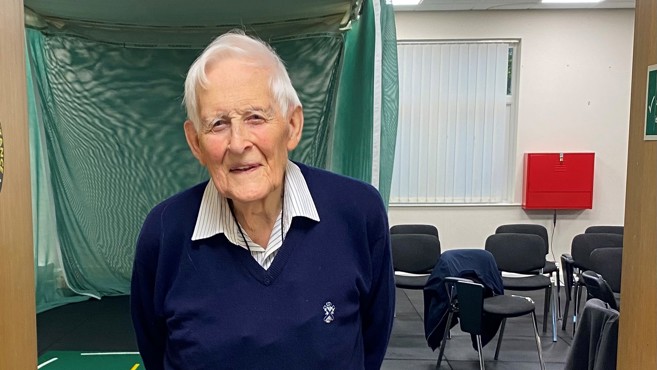 The PGA Training Academy, based at The Belfry, has officially named one of its education suites after Dr Alastair Cochran – widely acknowledged within golf research as one of the greatest influences on the modern game.
The naming of the 'Cochran Golf Science Suite' is in recognition of Alastair's contribution to the world of golf science, and the invaluable support he has offered The PGA over many years.
Alastair, 92, has worked as a consultant for several top golf brands including Titleist (Acushnet) and Callaway Golf, but he is more commonly known by golf academics for his golf research title, 'The Search for the Perfect Swing'.
Alastair's book, which was first released in 1968, remains one of the seminal pieces of work that has applied scientific methods to study the game of golf. It continues to be referenced today by scientists, educators and practitioners across the world of golf.
David Colclough, Head of Coaching and Sports Science at the PGA, said: "Alastair has been an incredible resource for us to have the opportunity to work with over the last 20 years.
"His knowledge and understanding of subjects that we cover within our golf coaching, sports science and equipment technology modules, gives us the reassurance that we are developing PGA Professionals with sound knowledge of key principles in those areas.
"Even today, where we have had the chance to honour him, and thank him for all he has done for golf and for The PGA, he's still keen to pose searching questions of the staff in the Academy."
After being educated at George Heriot's School and Edinburgh University, Alastair studied Physics and Nuclear Physics on his way to his PhD.
His working career was primarily in academic institutions (Royal Military College of Science, Liverpool and Aston Universities) and industrial research (Ferranti and Atomic Energy Authority).
In mid-1960's, Alastair took a four-year interlude to become the Director of the Golf Society of Great Britain's panel of scientists, studying the golf swing and related matters. Besides co-ordinating the whole project and co-authoring the resulting book - 'The Search for the Perfect Swing' - Alastair also carried out much of the theoretical work and mathematical analysis.
Although returning to work in academia, he continued to be involved in golf equipment related consultancy, firstly with Titleist, followed by The Royal and Ancient's Equipment Standards Committee and finally Callaway Golf. 
In 1990, along with Co-founder, Dr Martin Farrally, Alastair instigated the first 'World Scientific Congress of Golf', which was held in St. Andrews. The conference has subsequently gone around the world, providing a platform for researchers and practitioners to collaborate in person, as well as presenting written papers to an even wider audience.
In more recent years, Alastair has been frequently involved in work with The PGA that has resulted in significant contributions to the development of golf coaching and equipment technology materials.
Still an avid player in his 90's, Alastair was a scratch golfer for a number of years in mid-1950's and he is currently a member of Moor Hall Golf Club, Sutton Coldfield, and the Royal & Ancient Golf Club since 1962.