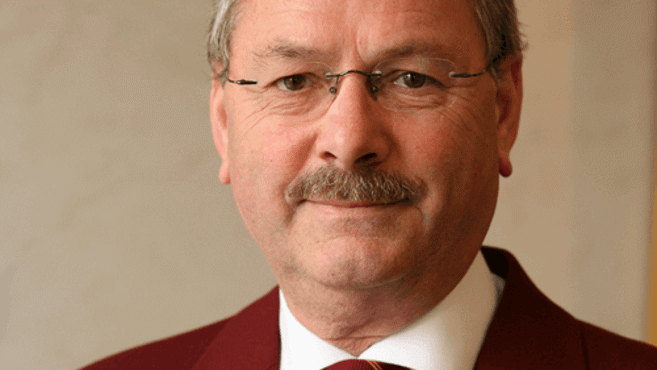 Tributes have been paid to Phil Weaver, a titan of the game at all its levels and former PGA Chairman, who has passed away at the age of 73 following a long and typically stoic battle with cancer.
Phil, who was awarded the OBE for services to golf in 2012, was PGA Chairman for an unprecedented 25 years, serving from 1989 to 2014. He was also the head PGA Professional at Coventry Golf Club for 35 years.
The back story to those statistics, however, is one of a stellar and influential career that saw him play key roles in such diverse facets of the game as Team Europe becoming competitive in the Ryder Cup and its transformation into a sporting contest of global interest, as well as his club becoming a haven for wildlife and synonymous with sustainability.
It all began at the age of 15 in 1963 with a humble assistant's role at Beau Desert Golf Club, Staffordshire, and culminated in Phil's final position as the Curator of PGA Heritage. In between times, his golfing journey exceeded his most fanciful dreams.
"Never in a million years would I have thought about something like this happening to me when I started in my first post at Beau Desert," he reflected after Prince Charles had presented him with the OBE.
That stint at Beau Desert was followed by a move to nearby Great Barr Golf Club and then Coventry where, after 13 years as Senior Assistant Professional, he was appointed head PGA Professional in 1979. Later Phil was charged with combining that role with that of Course Manager and, given his passion for painting, walking, bird watching, and all matters environmental, one suspects it was the most fulfilling of all he performed. 
Under his watch, the club became the first in England to achieve the prestigious, international Golf Environment Organisation (GEO) award in 2012 and, despite being located on the cusp of a busy city, more than 70 species of birds have been seen on the course, as have otters, badgers, muntjac and roe deer, stoats, shrews, and foxes. 
"His work on the course and the help he gave the greens staff was invaluable and is key to it becoming so environmentally friendly," said Martin Sutliff, Phil's successor as Coventry Golf Club's head professional.
"I worked with him for 10 years and I wasn't aware of the roles he had beyond the club when I started. He was a very private person who didn't give much away.
"Then when he told me shortly after I started that he'd be away for a fortnight on Ryder Cup duty and I'd be on my own, I started to learn how high up he was in the golf world.
"Despite those roles he was always down to earth and supportive of me. He was brilliant in guiding me and I hope I can be here for as long as he was."
Life in the pro shop was clearly a world away from the cut and thrust of administering the Ryder Cup and his chairmanship of The PGA, which began in 1989 a year after he was elected to the Association's board of directors.
Those two roles were inextricably linked insomuch that the latter meant Phil was tasked with making a speech at the opening ceremony of the biennial contest, a duty he undertook 13 times during his time as PGA Chairman.
Furthermore, such was the increasing interest and popularity of the match that, millions were watching on TV when Phil delivered his last opening address at Gleneagles in 2014.
In addition to the ceremonial aspect of his involvement with the Ryder Cup, Phil was appointed joint-chairman of the European Ryder Cup Committee, a role that ended in 2005 when Ryder Cup Europe LLP was formed. Thereafter Phil sat on the Players and Stakeholders' Board until he relinquished his position as PGA Chairman.
"Phil was a true gentleman, who cared deeply for both the Association and the Ryder Cup," reflected Richard Hills, the former managing director, Ryder Cup Europe. "He oversaw many changes in both and did so with a fair and open mind. He will be sadly missed."
Having retired as head pro and course manager at Coventry, Phil was appointed the Curator of PGA Heritage, a role that complemented his affection and insatiable interest in the Association's history. Not least his diligent research into PGA Members who perished in World War I, which produced a sobering and extensive catalogue of human tragedy and loss.
"That was typical of Phil's service for and love of the Association," said Robert Maxfield, PGA chief executive.
"Moreover, his contribution to golf and The PGA was immeasurable. As PGA Chairman for 25 years he provided a steady hand and sharp mind as the Association negotiated a period of significant change.
"And despite occupying a seat at the game's top table, he never forgot his calling as a PGA Professional.
"We have lost a valued colleague and loyal friend. It's a massive loss and a very sad day."
Alan White, the current PGA Chairman, added: "Phil's longevity in the role and his success in executing it made him a hard if not impossible act to follow.
"However, that has created a template and legacy for me and his other successors to refer to and I, for one, am indebted to his contribution as Chairman and, on a personal level, having him as a friend and colleague."
Phil was also a proud recipient of an honorary Doctor of Law degree from the University of Dublin in 2006. However, such honours and the high esteem in which he was held as a driving force behind the Ryder Cup, PGA chairman, club professional and environmentalist, tends to obscure the fact that he was an accomplished player.
He played on the European Tour for five years and represented Great Britain and Ireland in the PGA Cup in 1982 and 83, winning five of his seven matches. Closer to home, Phil won the Warwickshire Open seven times, was the Warwickshire Professional champion on four occasions, Midland Assistants champion in 1972, Midland Matchplay champion in 1975, and Warwickshire Matchplay champion in 1981.
"Phil was a highly competent professional golfer representing the Association in the PGA Cup and many other events, too many to mention," recalled Alan Walker, PGA Master Professional and Captain in 1999-2001.
 "He was also a fabulous artist and each year I marvelled at his bespoke hand painted Christmas card. Phil was a talented man in so many respects and somebody you could rely on and trust implicitly as I found in the many years we spent together on the Board of the PGA.
"I will remember Phil for his dry humour, which was just below his sometimes stern and serious façade, mainly due to his desire to represent The PGA in the very best possible manner. He enjoyed the fun of life as much as the duty of life.
 "I knew Phil for nearly 40 years, and he was the ultimate and consummate PGA Professional in every possible way."
Phil is survived by his wife Lynette, son Miles and his partner Phillip, daughter Sally and son-in-law Clive and their children, Erin and Harry, brother Chris and sisters Joan and Sheila. The PGA extends heartfelt condolences to them, Phil's other family members and his legion of friends.