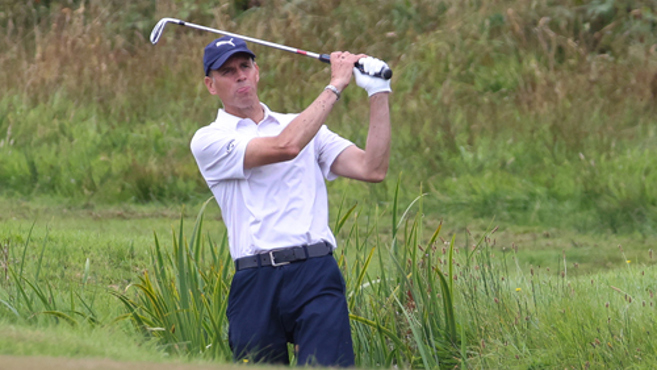 England's Graham Howell leads the chase for two trophies at the halfway stage of the Asbri Welsh National PGA Championship at Aberdovey after a day in which the wind was a major influence.
Howell, the head PGA Professional at Ferndown Forest Golf Club, Dorset, who qualifies for the tournament because his father is Welsh, posted a two under par round of 69 to establish a one-shot lead in the 36-hole event.
Not only has that put him in pole position to claim the £1,500 first prize, having turned 50 in February, Howell is on course to win the senior competition which runs in tandem with the main tournament.
He is mindful, however, the job is only half-done, his lead is a slender one and there are some high quality rivals in his slipstream.
"There are 18 very good players within three shots of myself so I'm certainly not counting my chickens by any stretch of the imagination," he said.
Moreover, Howell is well aware the capricious nature of the wind in this part of west Wales can be a beneficial or malevolent influence on a golf ball's flight. Happily for Howell on day one, it was a case of the former.
"I got pretty lucky today," he admitted. "We were down wind on the front nine and the wind turned on the last four holes so I was down wind there as well.
"If anyone had the best of the conditions it was the last three or four groups. I got lucky."
By way of confirmation, four of the quintet of players who are a shot behind Howell – Matt Moseley, Lee Harpin, Keith Preece and Andy Humphrey, the head pro at the venue – all went out later in the day.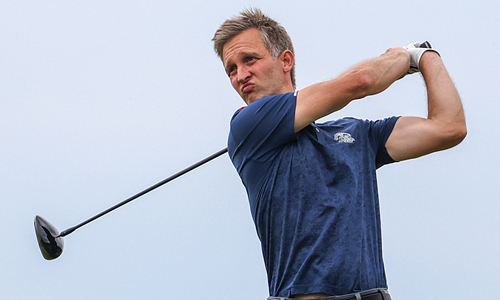 Not so Lee Rooke (above), one of six previous winners of the tournament in the field.
"It was tough going out downwind," he said. "Then I came back into the wind. I dropped a couple of shots on the last two holes but would have settled for one under at the start."
Rooke won the 2013 tournament on home territory at neighbouring Royal St David's, a similar venue to Aberdovey.
"This track definitely suits my game," he added. "I love a bit of links golf – it's the only way I can get a bit of distance. As for tomorrow, a lot depends on the weather. I'll just try and keep the ball on the fairway and see if the putter works.'
CLICK HERE for a full list of scores