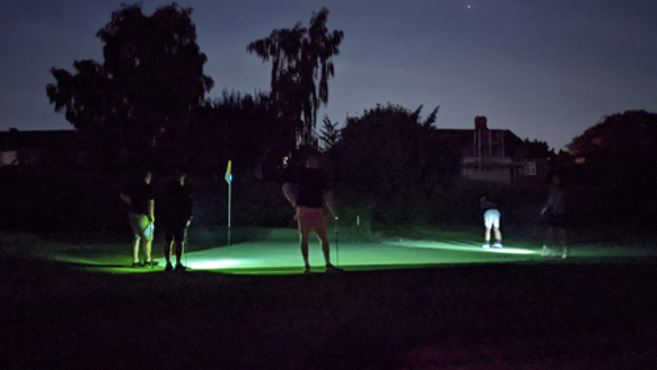 Darren Everett, the PGA director of golf at Exeter Golf & Country Club, has honoured the memory of his late father by playing golf non-stop for 24 hours and raising more than £7,000 for charity.
Everett's father succumbed to cancer in March after fighting the disease for 14 months and a frequent comment he made to his son when he was growing up inspired the golfing marathon.
Everett recalled: "Dad used to say to me when I was young: 'You would play golf 24 hours a day'.
"So, to honour the memory of a much-loved man who loved life, fuelled my passion for sport and supported me when I embarked on a golfing career, that's what I did."
Twenty-four hours of non-stop golf saw Everett, aided by friends, Exeter Golf & Country Club members, and special night golf equipment to play during the hours of darkness, raise much needed cash for Marie Curie UK and Hospice UK.
In doing so he completed six rounds of golf, took 75,000 steps and covered 39 miles.
Reflecting on his achievement, Everett admitted: "I knew it was going to be tough and I can confirm it was!
"It was also brilliant though and I am so glad I decided to do it and have no regrets, but also no real desire to do it again… or maybe I will!
"There are also loads of people I need to thank, not least all the members and staff at Exeter Golf and Country Club for their amazing support and donations, and all the players who joined me throughout my 24 hours.
"Thanks are also due to my family who, like me, have gone through a tough time this year.
"It was amazing to have them there to see me home on the final hole and, of course, we all know that dad was with me every step of the way.
"If a script could have been written on how to finish this challenge off then somehow gathering the energy to hit the 18th green in two in front of a gallery of family and friends would have been it for sure."