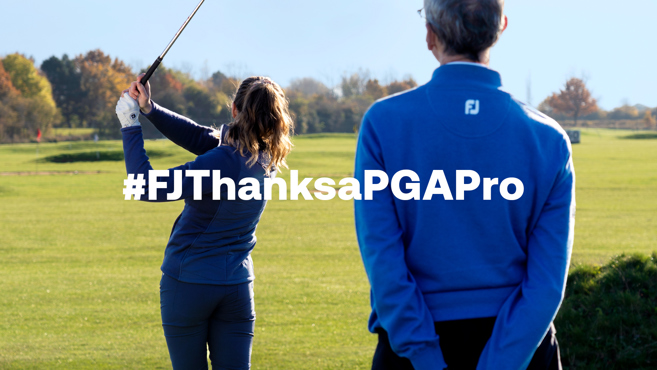 Jorden Ferrie and Hannah Crump have been announced as winners of a competition by FootJoy and The PGA to celebrate the work of the Association's Members who have gone above and beyond for their community over the past 18 months.
FootJoy, the #1 Shoe and Glove brand in golf, and The PGA launched #FJthanksaPGAPro – a social competition - back in November last year.
The campaign invited golfers to share stories of how their PGA Professional has supported them throughout the COVID-19 pandemic.
Ferrie, who is based at Golspie Golf Club, and Crump, a teaching professional at Stonebridge Golf Club, were chosen as winners of the competition. They were nominated using the #FJthanksaPGAPro hashtag and then handpicked by a combined FJ and PGA panel.
Crump was described as a 'complete legend' by her nominee, Kirsty Wisey. She also praised Crump for introducing more women in golf, adding: "She goes much further than simply teaching how to hit the ball, but prepares them (women) for the golf course and gives them the confidence to get out there.
"She runs events for the women suited to their playing ability as well as social events. It goes without saying she's an insane golf coach too, having reduced my handicap from 30 to 15 over the last 6 months and more importantly kept me playing when I've been on the brink of packing it in."
Both winners were rewarded by PGA Principal Partner, Therabody, who presented them each with their powerfully quiet percussive therapy device, the Theragun PRO, as a prize for their efforts.
In addition to the main prizes, three other nominated PGA Pros will be randomly selected to win a pair of FJ MyJoys.
The competition also rewarded golfers, with the first 50 participants who shared their nominations receiving a pair of FJ ProDry® socks, whilst those who nominated the winning PGA Professionals received a pair of MyJoys.
The initiative follows on from a record year of golf in the UK&I in 2021, with the highest participation levels in the game, adding to the challenges PGA Professionals face as they support and facilitate the running of the grassroots game.
Commenting on the campaign, Tristan Crew – PGA Executive Director – Member Services, said: "We were pleased to see entries from every region with over 60 PGA Professionals being nominated for their extraordinary efforts during a very difficult year.
"The campaign was seen over 280,000 times across Facebook, Twitter and Instagram and was covered by major outlets ranging from 'Women & Golf' to 'Irish Golfer'.
"The FootJoy and PGA Panel had a difficult decision to make when considering the fantastic recommendations received for each nominee, however, I would like to congratulate Jorden Ferrie and Hannah Crump for being named winners of the competition."
Russell Lawes, FootJoy Brand Director, added: "PGA Professionals are a cornerstone of our sport. Often the first touchpoint and welcome for golfers, their role is pivotal in allowing the grass roots game to flourish and everyone at FootJoy is incredibly proud of the company's association with The PGA.
"The #FJThanksaPGAPro initiative was launched to provide an opportunity to celebrate and recognise the hard work and passion for the game that so many PGA Professionals demonstrate, especially over the last 24 months, and the nominations we've received underline the extraordinary extent of this commitment up-and-down the country. Congratulations on your nomination from your community and thank you for your ongoing dedication."