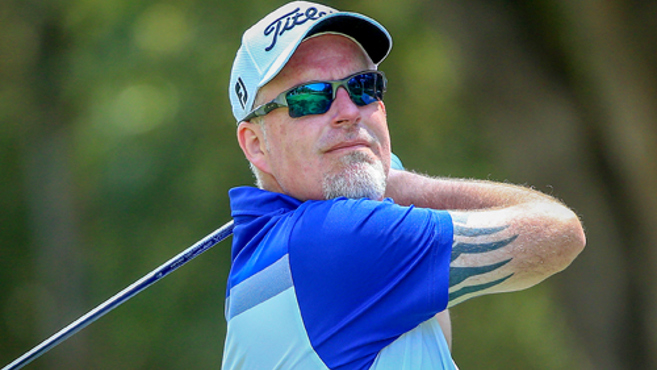 Three-time European Tour winner Ken Ferrie has reached the final of the Coca Cola PGA Assistants' Championship after making his debut in the competition.
Ferrie, 42, won the PGA North region qualifying event at Pleasington Golf Club, Lancashire, finishing a shot clear of Craig Smith (Close House Golf Club) and Thomas Slatter (Bondhay Golf & Country Club).
They will join 17 others from the qualifier in the £27,975 Coca-Cola PGA Assistants' Championship final at Farleigh Golf Club, Surrey, between July 27-29.
Nortumberland-based Ferrie, who led the 2006 US Open after 54-holes, admitted he was 'probably the oldest first year PGA Trainee around' as his four-under-par total of 67 at the Blackburn course saw him top the leaderboard.
Ferrie, who is attached to Matfen Hall Golf Club and won the British Boys Championship in 1996, recorded five birdies on the front nine.
And, despite making what he described as a 'silly bogey' on the inward half, held on for victory in what was a rare outing on the course.
He barely played last year due to the pandemic but is continuing his 22-year association with Matfen Hall - where his wife Lisa is director of golf.
He has now joined the PGA Trainee ranks and was happy with his first visit to Pleasington.
"There's multitude of reasons why I decided to do The PGA training," he said. "It's the next chapter after being on the European Tour and another avenue for me to explore.
"I played virtually no golf last year and a few this year, but it's been a massive break due to the lockdown and I didn't touch a club for about five or six months. In a couple of months' time I should be playing better."
Ferrie says the win coincides with an important period at Matfen Hall.
"We got new owners about six months ago, the hotel here has been refurbished and it's opening on Monday so we'll have a busy weekend," he added.
"I've been attached to Matfen since I turned pro in 1999, I've been all over the world with the Matfen brand. Now I'm continuing it on in a different marketplace, I like to try and keep it in the public eye if I can.
"Lisa's been working there a long time, so it's a place that's close to our hearts. It's a nice place to be."
CLICK HERE to view the full leaderboard from the Coca Cola PGA Assistants' Championship North qualifier