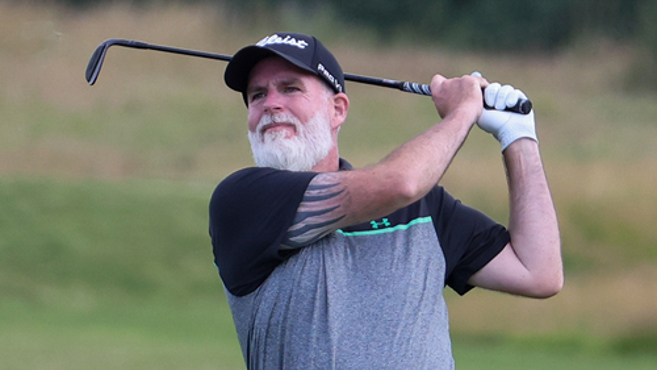 Kenny Ferrie reproduced the form that earned him three victories on the European Tour to set a scorching pace in the opening round of the Coca Cola PGA Assistants' Championship at Farleigh Golf Club.
In doing so, Ferrie, who represents Matfen Hall in Northumberland and is in his first year of PGA training, posted a nine under par round of 63 to break the course record at the Surrey venue.
In what was the archetypal round of two halves, Ferrie was three-under at the turn courtesy of four birdies tempered by a bogey.
There were no blips on the back nine, however, as the 42-year-old moved into overdrive. An eagle at the par-four 11th lit the blue touch paper and a quartet of birdies followed.
Reflecting his round, Ferrie said: "I played nice and steady, holed a couple of putts and the eagle really got things going, so I'm pretty happy.
"I haven't been playing much – a few pro-ams and the qualifier to play in this final but that's about it."
As a counterpoint to playing, Ferrie has embarked on the three-year training programme to become a PGA Professional.
"There's multitude of reasons why I decided to do the PGA course," he explained. "It's the next chapter after being on the European Tour and another avenue for me to explore.
"I didn't imagine I'd be going back to school at my time of life but it's a challenge. I'm finding it very interesting and am learning a lot."
Coincidentally this was the second national PGA tournament in which a record-breaking or equalling round of nine-under has been posted on day one.
Ferrie's tour de force followed that of Adam Keogh in the English PGA Championship at Bowood seven days earlier.
But whereas Keogh opened up a seven-shot advantage and maintained it to win the 54-hole tournament Ferrie does not enjoy such a big advantage over the 130-strong field.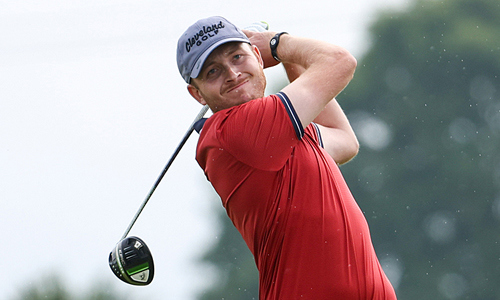 A trio comprising Corey Sheppard (above), Harry Casey and Jack Malone are just two shots behind the leader in the chase to claim the £5,000 first prize and join a list of winners that includes two-time major champion Tony Jacklin, Neil Coles, Dave Thomas and Peter Alliss.
A shot further back after a six under par round of 66 lies Ryan Salliss and the members of another trio comprising Ioan Jones, Ryan Boyns and Lewis Pearce are each on five-under.
CLICK HERE for a full list of scores