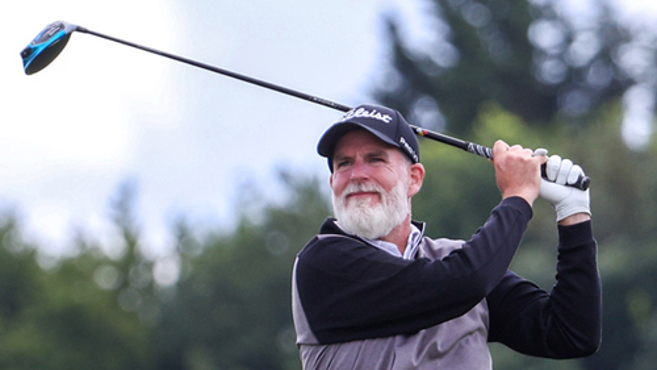 Kenny Ferrie boosted his chances of winning the Coca Cola PGA Assistants' Championship at Farleigh without having to replicate the high-octane golf that saw him put the course to the sword on day one.
The three-time European Tour winner began the second round two shots clear of the field after breaking the course record with a nine under par score of 63.
He followed up, figuratively speaking, with a lower key round of three-under but that ensured he goes into the final leg of the chase for the £5,000 first prize with a five-shot advantage.
While his numbers varied, however, the 42-year-old reckoned there was little to differentiate between his form over the two rounds.
"There was a six shots difference between today and yesterday, but I probably played one shot worse," said Ferrie, who is in his first year of PGA training.
"I missed a couple of silly little ones and didn't really hole much. The wind made it very tough to read putts.
"The lines were pretty obvious yesterday but trying to read the break and the wind as well –it was a little bit trickier today and often a case of second-guessing."
Despite the trials and tribulation caused by the wind, Ferrie had the best of the conditions that deteriorated as the day wore on.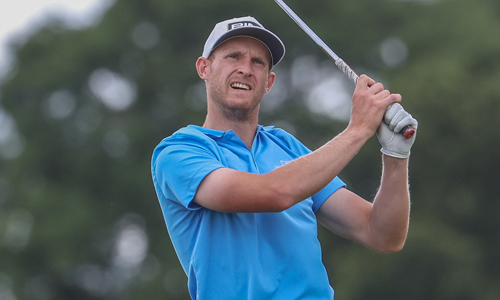 There were frequent downpours and the wind grew in strength, so much so that Ferrie's closest pursuers were blown off course. Not least Patrick Ruff (above).
Six-under for the round after 15 holes, and 10-under for the tournament, the PGA trainee from The Belfry was on course to post the best round of the day and end it within touching distance of Ferrie until Mother Nature intervened.
"It was really tough towards the end - the wind on the last four or five holes was crazy," said Ruff, after dropping three shots on the final two holes to finish on seven-under.
That left him five shots adrift of Ferrie but he did have some consolation in the form of a hole-in-one at the par-three seventh.
"It was my third hole-in-one but first in a tournament," he said. "I used a nine-iron and we all saw the ball drop. It pitched past the hole and spun back in."
Ruff shares second place with Sedlescombe Golf Club's Michael Farrier-Twist, who also posted a round of three-under, while Ioan Jones of Abersoch Golf Club, Weald of Kent Golf Club's Ryan Boyns, and Corey Sheppard of High Post Golf Club are a shot further back on six-under.
CLICK HERE for a full list of scores