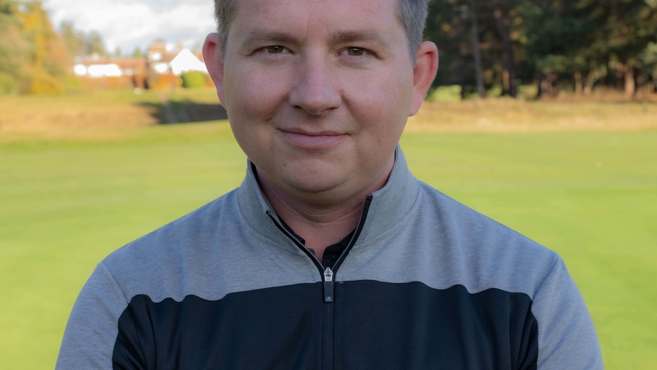 Sunningdale Heath professional Tom Reid talks us through five great ways to kickstart your game again.
We're not blessed with the best climate for year-round golf in the UK so, naturally, our enthusiasm levels can drop a bit over the winter. But there are some interesting and effective ways to keep your game ticking over and you don't need to rush that last-minute prep before your first medal.
1. Book some lessons
This is an obvious start but a good idea is to have a six-month expiry date on any lesson voucher. If you put a limit on having say eight lessons and get them into a six-month period then that will focus your efforts.
The cadence of those lessons is so important – you will often take one lesson and then go back to work and then you look after the kids and then you might travel with work and then, 10 days later, you finally go to the range and you think what on earth am I meant to be doing?
I always say that, if you're going to do it, you need to have three practice sessions or nine holes or anything that constitutes as golf between each lesson.  Then, when you have some momentum and you have made some changes, then you can space them out. You don't want to be taking a high level of tuition in the middle of the season as that's when you just want to be playing and enjoying the game. You don't want to be having a driving-range psychology while you are playing your monthly medal. You want to be on the course and being reactive to your round. 
2. Keep the drills going
I'm a big believer in pivot and body movement drills away from the driving range. Every golfer is time poor and the weather is poor so we have to come up with ways to combat that. Most people rush their pre-season work, they are rusty and they haven't practised their short game but you can always do these drills. Imagine your arms folded across your chest and think about how your body moves in your swing, this way there's no reason to have any real lapse in the way that you're moving dynamically. I would always prescribe this as a constant but particularly in the winter when yo've got more layers on. Ideally you will go to the gym and get yourself a programme, and then that flips the idea that we don't have to rush for the start of the season, but some straightforward drills are a decent alternative.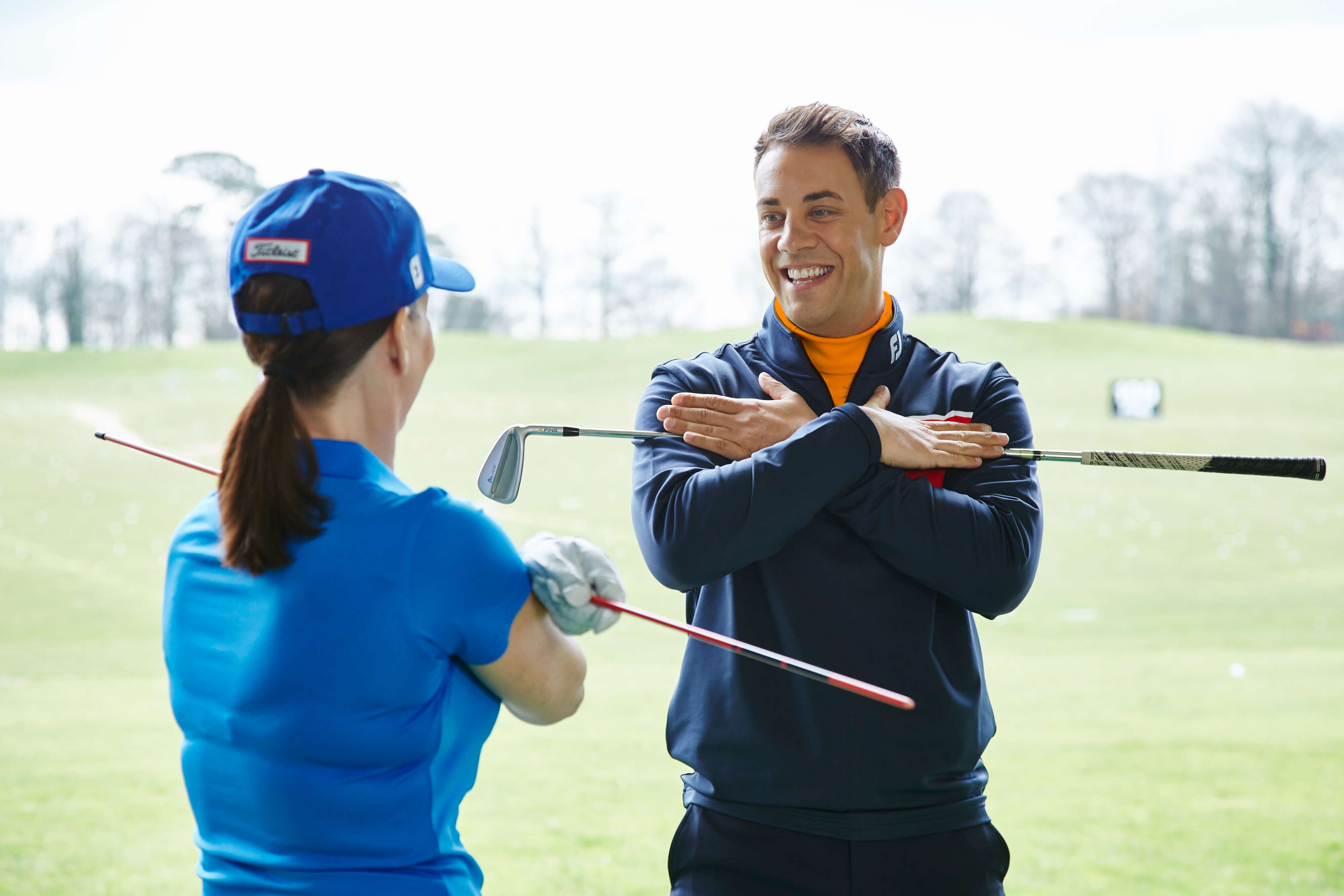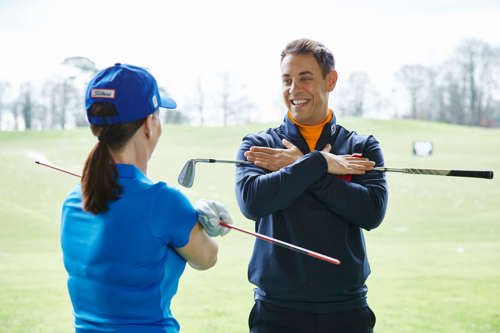 3. Work on your wedges
If you haven't played much in the past few months then I wouldn't worry too much about the longer clubs and I would concentrate on your your pitching and just simulating your impact. If you can hit the ball out of the middle of the clubface and hit the ball in a straight line from 70 yards then all you are really doing is extending the length of your swing to hit the ball further. I would be focusing on getting the feel and connection of ball and club and being able to square the clubface and not worry about the longer irons.
I would then go straight to the driver and try and make some fairly fast and brisk swings to get your speed back up but only after feeling like I have struck my wedges properly. People always go to the range with their 7-iron and hit 50 balls but they will only probably hit three 7-irons in a round of golf. If I was to hit 50 balls then I would hit 35 wedges and getting my strike and impact position to be where I want and then I would hit a few drivers, that way you are learning more about how you are swinging it.
4. Work on your mind game
With all my junior academy students I drill into them the importance of their pre-shot routine and process and I pester them with it all the time. It's the fundamental to consistent performance. If you have no pre-shot routine and no process then you have no consistency to the approach of the shot and therefore no idea how to fix anything.
If you try a different thing every time you hit a ball you are going to get a different result every time you hit the ball. You are just constantly searching and you have no system and every golfer needs a system and a process that they follow for 18 holes. And, if they're not working, then you can alter it.
Talk to your coach about it. A good coach will be able to put a good pre-shot routine into place and tap into a player's psychology. A particular player might be very visual and they will see how the ball leaves the clubface and what is it like when the club hits the turf and you have to ask a lot of questions to put a system into place. Then it takes a lot of trouble shooting and they will tell you what works for them.
The hardest part is to get the player to have the discipline to use the process on 100 per cent of their shots – if an 8-handicapper is going to hit 80 shots and they do this for 50 per cent of their shots then that is pretty good. The player who has a higher ratio will be a more consistent player. That is what I drill into my juniors as, once you have it, you will likely have it for the whole of your career and we will work on having a physical and a mental routine as both are crucial. 
5. Enjoy the warmth
Indoor golf is happening everywhere now and the pace that these simulators and studios at golf clubs are being opened up is fantastic. There are so many options and driving ranges have become more interactive so, if you can work on some pivot drills and having some indoor lessons where it's warm, then you will really hit the ground running. The 3pm-9pm time period is now busiest time for teaching whereas historically that would always have been dead time in the UK. Now we have so many great solutions to continue playing.