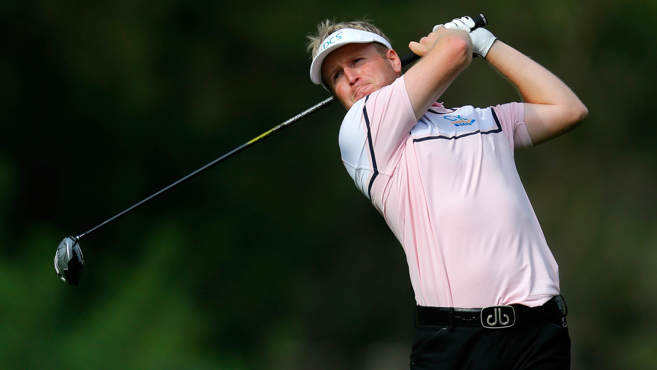 Matthew Ford (CK Group) refused to let the wet Staffordshire weather dampen his PGA Professional Championship debut as he produced the standout performance on the opening day of this year's event which was cut short due to heavy rainfall at Trentham Golf Club.
Moving the 2020 Championship to the beginning of October due to the COVID-19 pandemic was always going to lead to potential challenges, but nobody could have predicted the frustrating heavy showers which hampered play throughout the morning and afternoon.
The day had begun in almost perfect conditions for the early starters, one of which was Ford who showed his intent from the off with back-to-back birdies at the first and second. 
The Challenge Tour player went on to experience an up and down back nine, which saw Ford par just one hole, however, he did go on to record nine birdies in total on his way to a round of 66 (six-under-par).
"In places it was a bit of a mixed bag but overall I'm very happy," said Ford. "I birdied the last hole but I think I only made one par on the back nine. I made a couple bogies and six birdies, so there was a lot of good stuff in there, a couple of three-putts, but a lot of good stuff.
"This is the first time I've played in the PGA Professional Championship, so I was excited about playing. This year with everything going on there hasn't been a lot of golf tournaments which has allowed me to play in this event so it makes a change and I'm looking forward to hopefully playing four rounds.
"It's a four round tournament so there's a long way to go but I'm just happy with the start really, who knows what's going to happen for the rest of the play and tomorrow. Some people might get some better conditions but I'm just happy with the way I've played."
Other standout performers in what was undoubtedly one of the strongest fields for a PGA Professional Championship were 2018 champion Andrew Willey (Oakmere Park Golf Club) and Paul Nessling (Sedlescombe Golf Club).
Both players teed off in the same group and, like Ford, they managed to dodge the wet weather on the front nine to finish three shots behind on 69 (three-under-par).
Nessling commented: "I was playing well after nine holes, it was a little bit of a struggle on the back nine with the rain and the greens got a bit tough to putt on, but overall I'm really happy."
Willey added: "The conditions were okay for our first nine holes, we had no rain but then it started to come down, the course was very wet so I think we all struggled. The course is in great condition, it's just unfortunately holding a lot of water."
Asked if he can repeat his success two years ago at Little Aston Golf Club, Willey added: "I would love to win it again. There's a long way to go, hopefully we can get four rounds and we'll see what happens. I'll take it one day at a time."
James Ruth (China Fleet Golf & Country Club), James Ruebotham (Welwyn Garden City Golf Club), Matthew Cort (Beedles Lake Golf Club), Simon Thornton (Tulfarris Golf Resort) and Christopher McMaster all sit four shots off the lead on two-under-par (70).
Defending Champion Alastair Forsyth (Mearns Castle Golf Academy), who won last year's championship by 11 shots, was one-over-par after six holes before his round was cut short along with the rest of the field at around 2.30pm.
Play resumes tomorrow (October 7) at 8am with the second round commencing at 8.30am.
CLICK HERE to view the PGA Professional Championship leaderboard after day one at Trentham Golf Club.