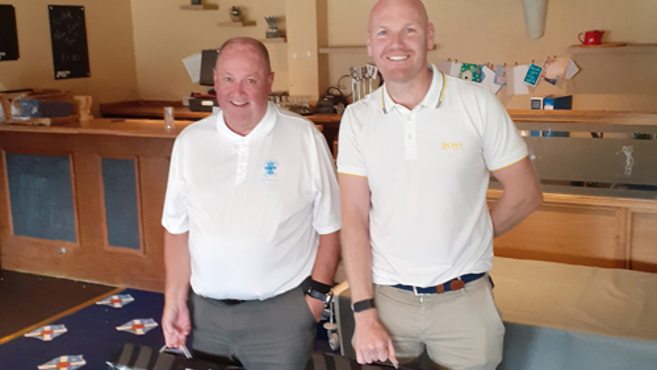 Some valuable local knowledge from Dumfries & County Golf Club captain Ian Fraser helped professional James Erskine seal a place in the SkyCaddie PGA Pro-Captain Challenge final in Italy.
The duo won the Scottish qualifying event by just one point at Stirling Golf Club.
Fraser and Erskine totalled 44 points thanks to an eagle at the 18th hole. That was enough to edge out Derek Cullen and Paul Jamieson (Dunblane New Golf Club) and Gordon Kennedy and Campbell Elliott (Haggs Castle Golf Club).
Now the Dumfries & County duo will take part in the grand final at the Agentario Golf Resort in Porto Ercole in October.
Fraser admitted, however, their victory was far from guaranteed as they approached the 18th hole.
"James hadn't played this course before, but I had a few times, and I knew that the out of bounds was very close to the back of the 18th green," explained the three-handicapper.
"He was going to play an eight iron, but I felt that was too much and he'd be over the wall and that a nine was better. I wondered what I'd said to be honest.
"As it was, as soon as he'd hit it, he knew it was good and it finished 10 feet beyond the hole. And he rammed the putt in.
"But I can't say I played too much of a role in the victory, I came in for a couple of holes, but James came alive on the back nine.
"However, as the amateur player I was wondering what to do when he told me we needed to go three, three, three on the final three holes to stand a chance.
"But we are absolutely delighted with a place in the final and the chance to go to Italy."
Fraser is in his first year as captain despite a long association with the club.
The retired police officer has been a member at Dumfries & County for around 35 years.
But he admits these are difficult times for the club with a number of senior staff leaving for differing reasons.
"We're in a position at the club where we need to get some really good people in to take on some important roles," he added.
"Winning this event is good publicity and we've already had a lot of likes on Facebook since the Stirling event."
CLICK HERE for a full list of scores