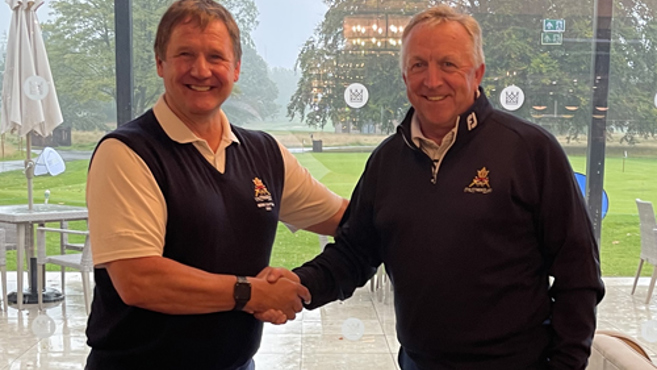 Malvin Rogerson has marked an association of more than a quarter of a century with Ely City Golf Club by reaching the final of the SkyCaddie PGA Pro-Captain Challenge in Italy.
He partnered the club's PGA Professional Andrew George as the Cambridgeshire duo won the East regional qualifying event at the Royal Norwich Golf Club.
Ely captain Rogerson, along with George, were one of the first to complete their round and had to wait to find out they had won after recording a total of 44 points.
In the end, they won on countback, thanks to an excellent back nine, to edge out John Hatfield and James Webber of Three Rivers Golf & Country Club, Essex.
Rogerson, the former director of a plumbing and heating company, and George will now take their place in the showpiece final at the Argentario Golf Resort, Porto Ercole, next year.
Reflecting on their round, Rogerson, a 20-handicapper, said: "I wasn't anywhere near anything on the front nine, but I hit a bit of a purple patch with Andrew after that.
"Maybe we had the best of the weather, it was drier earlier on, but I don't want to take anything away from the way Andrew played.
"Then we had to wait and see if anyone could beat us, one team had a great front nine, so we kept an eye on that, but we won from what was an excellent field on the day.
"We've now got a few months to prepare for the final, and it's a fantastic prize; without people like SkyCaddie and the PGA, players like myself wouldn't get the chance to play in something like this."
Rogerson has been captain at Ely throughout the Covid pandemic and is rounding off his 19 months in the role with this win.
"My captaincy started a month before the lockdown, and the new captain comes in on October 2, so this is a good way to end for me," he said.
"This has been the first time I've been captain, I've been at Ely since 1995 but it's only in the last 10 years or so that I've started playing regularly."
CLICK HERE for a full list of scores