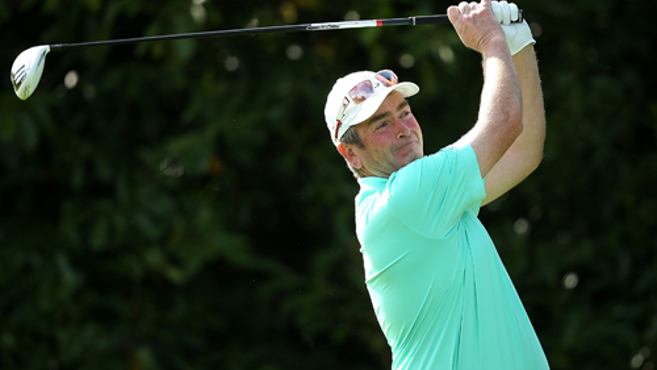 In 2012 Garry Houston's game was not in the best of places and he had to be persuaded by his fellow pro Richard Bean to even enter the Leeds Cup – a few days later he was walking away with professional golf's oldest trophy for a stroke play event. Three years later he would win the 100th staging of the tournament and this week he will be back at Leeds Golf Club to try and make it a hat-trick.
"I've got to be honest, until I'd won it I had no idea of its importance or its history," explained the 50-year-old Welshman.
"My schedule is all about the Order of Merit and it's one of five Order of Merit events but the Leeds Cup is a particularly gorgeous trophy, it's insured for a small fortune.
"I've got a decent history at Cobble Hall (Leeds), I've never won there but I've finished second and maybe fifth there so I know I can do well there.
"There is a way around it, you have to keep it in position and putt pretty well. I've played in three Order of Merit events this year and things are trending in the right way – 21st, 10th and fifth – and that's having done no practice as it's been straight from the bag to the course to play. But I've been starting to put some work in now."
The bag Houston refers to is not his but that of Thomas Bjorn who he has been caddying for this year having had a stint together in 2018.
"I've been old friends with Thomas from my days on Tour. We did about 14 events in 2018 and have done around a dozen this year including Sunningdale for the Senior Open and the Champions Tour in America.
"I think I do a decent job but it has its own challenges, let's say! It's been difficult to plan my assault on the over-50s playing-wise but everything is still very vague in terms of details on any Q School."
Houston turned 50 in May and celebrated his big day inside the bubble at The Belfry; subsequently there has been a bit of a learning curve for the Carden Park-based pro.
"I didn't realise there was qualifying for Sunningdale which was annoying as I might have been able to qualify for that and that could have been a springboard.
"Then Thomas pulled out of the Irish Open which allowed me to compete in the PGA Seniors but I was a day late in entering and the top 15 there got into Formby so that would have been another opportunity.
"But I'm hopeful of getting into the Forest of Arden and I'll be rededicating myself to playing a lot more with a view to getting on the Legends Tour one way or another.
"The window at that level closes quickly, if you're realistic you've got five years of playing at that level and, if there's no Q School, then you're missing out. It's obviously hard to get one of five cards but just to compete there means you get some starts."
For now though the Leeds Cup is Houston's sole focus and, should he pull it off, it might well prove to be the springboard to a new life on the Legends Tour.