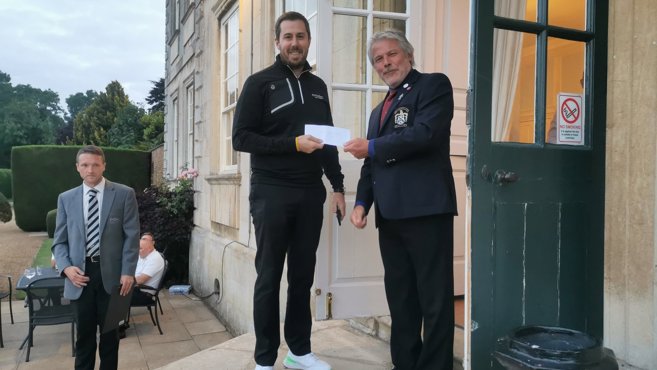 For the 15th consecutive year, Glazerite sponsored the Glazerite Trophy Pro-Am which recently took place at Wellingborough Golf Club, Northamptonshire.
All funds raised from the event were for the charity We Mind & Kelly Matters, which was set up by John Hewitt, former chairman of Glazerite, with his wife Rachael and daughter Amy in memory of their beloved daughter and sister Kelly, who was lost following her struggles with mental health.
Speaking after the Glazerite Trophy Pro-Am event, Hewitt said: "The charity was initially designed to help raise vital funds for mental health and bereavement charities. In the first 12 months we donated over £20,000 to MIND."
MIND provides support to anyone experiencing mental health problems and campaigns to raise awareness and understanding around mental health.
However, Hewitt noticed that front line services were desperately needed in the Northamptonshire area. He continued: "As we went through the early stages with the charity, we decided we didn't want the money being raised spent on wages, but would rather see it spent on front line services. So, at the start of this year we launched our own front line support services with a new CEO, Sherry Adams, who was previously at MIND.
"We now employ councillors for face-to-face and online counselling as well as a live chat service that currently runs three nights a week. There is also now a scheme to run a dedicated live chat service for a local school too. Since starting in January, We Mind & Kelly Matters has counselled over 100 people and completed over 300 hours of live chat.
"On top of this, in conjunction with SOBS (Survivors of Bereavement by Suicide) charity we have opened the first SOBS group in Northamptonshire. The nearest group was previously all the way in Milton Keynes."
This group, which meets twice a month, helps people who have suffered the tragic loss of someone close to them through suicide.
"We are certainly doing good things with the charity and are pleased we have raised a decent amount of money so far" Hewitt explains. "It has been hindered slightly by COVID as we haven't been able to get ourselves out there as much as we would like, but there's lots more we want to do, getting the charity out there to as many people as possible and continuing our work within schools.
"We really want to thank Wellingborough Golf Club and The PGA for their continued support. The golf event has always been a great opportunity to get customers together and raise some money for the charity."
Congratulations go to Ryan Evans who was the winning professional at the Pro-Am after shooting a remarkable course record 63. The winning team were Charlie Higgins, Glyn Pepper, Billy Harris & Ben Jones with 131 (-13).
The Glazerite Trophy took place earlier in the year, also at Wellingborough Golf Club, where Patrick Ruff (The Belfry) triumphed with rounds of 68 and 69 to finish on -7.
Are you OK?
If you are worried about someone's mental health and wellbeing, or have any concerns or worries about their feelings towards suicide, always ask if they are OK, and be prepared to ask twice.
If you would like to talk to someone, you can access the We Mind & Kelly Matters counselling page, contact one of the numbers below or email info@wemindandkellymatters.org.uk.
Call Samaritans free on 116 123 – they are open 24 hours a day, 365 days a year
Call CALM (Campaign Against Living Miserably) if you're a male in the UK who needs to talk or find support, on 0800 58 58 58 (5pm–midnight, 365 days a year)
Contact SOBS – Survivors of bereavement by suicide – National Helpline 7 days a week 9am-9pm call 0300 111 5065
We Mind & Kelly Matters has also created several helpful factsheets on a number of topics, which can be access by CLICKING HERE.