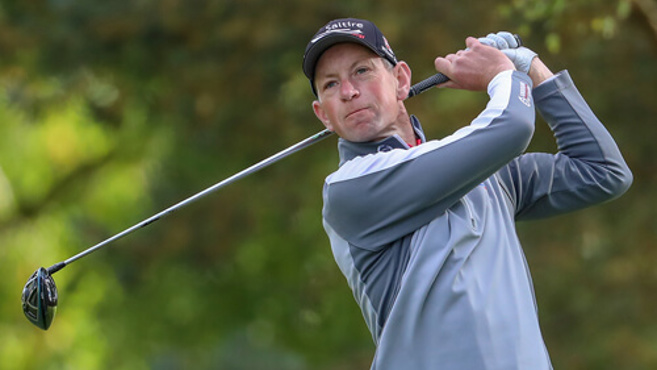 Conduct a straw poll among members of the Scottish golfing fraternity as to their view of Ross Cameron and the answer is invariably the same. The 41-year-old, they say, is one of the game's good guys.
In this correspondent's experience, it's easy to see why. Voicemails requesting interviews have unfailingly been answered, appointments kept, and texts from him detailing the successes of fellow pros that have passed under my radar have been received.
In which case, it's fitting that, after a career that until this season had been spent primarily on the German-based ProGolf Tour, Cameron will finally make his European Tour debut in this week's Scottish Championship presented by AXA.
Especially in this year of all years. Turn the clock back to March when the PGA Professional from Peterhead celebrated his most recent birthday and his career prognosis was bleak.
Lockdown was about to happen so Cameron took a part-time job in a supermarket to supplement his income.
Seven months on, and mindful of another lockdown and a paucity of tournaments during the winter, he is still there. What has unfolded in respect of his 'proper' job in the interim is the stuff of dreams, however.
In what turned out to be an unforgettable September, he won the Loch Lomond Whiskies Scottish PGA Championship by four shots at Deer Park and then followed suit in the weather-affected Northern Open at Spey Valley.
In between times, and as a result of his success at Deer Park, he had received an invitation to play alongside the likes of former World number one Lee Westwood and current Ryder Cup captain Padraig Harrington in the Scottish Championship at Fairmont St Andrews. And therein lay a career conundrum.
"The Scottish Championship coincided with final qualifying for next year's PGA EuroPro Tour," explained Cameron, who is coached by Ian Rae, national golf coach at the Scottish Golf Union and a fellow PGA Professional.
"I needed to play in that to earn my place on EuroPro for next year. But it was always my dream to play in a European Tour event, so I was torn between the two."
The only way Cameron could earn exemption from qualifying for the PGA EuroPro Tour and play in the Scottish Championship was by winning the Tartan Tour Order of Merit. His triumph in the Northern Open did just that.
"I am really chuffed about that," added Cameron who has been supported by Saltire Energy for 16 years.
"I've been playing for years and, if I hadn't had the chance to play in events like this one, it's something I'd probably have looked back on with some regrets.
"So I'll be super-excited when I get there. I'll be smiling all week but I'll keep my head down, not hype it up too much and try and treat it as a normal tournament."
Which is what Cameron has been doing throughout his career and, asked as to why he thinks 2020 has turned into an annus mirabilis, he does not have a logical explanation.
"I haven't made any changes to the way I play or done anything different," he reflected.
"But I feel I've got a better life-balance, I'm enjoying my game a lot more and getting back on the course after lockdown when there wasn't any golf made it that much more enjoyable.
"And I've had a good boost from my recent wins. That's given me confidence going forward and I definitely feel as though my best years can lie ahead."
Starting, he hopes, on the Torrance Course at the Fife venue later this week.