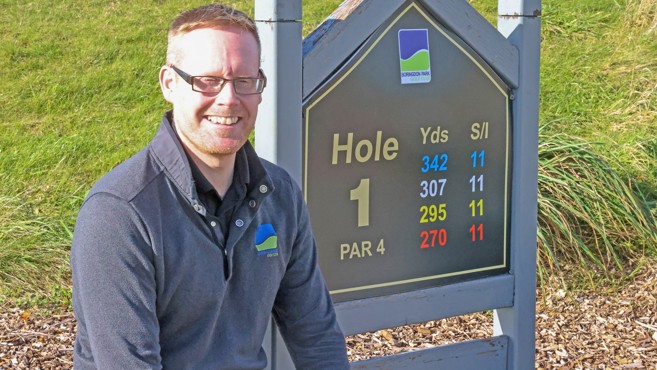 Scott Macaskill has not only enhanced his career prospects and improved his management technique by attaining the PGA's director of golf qualification but also created a milestone by becoming the 100th pro to complete the course successfully.
In doing so, Macaskill joins three other pros who have made a little bit of history since the course was launched 14 years ago, namely Stuart Leech, Sarah Walton, and Katie Rule.
Walton was the first woman to pass the course; Rule, to date, is the youngest of either gender to achieve the qualification; while Leech set the ball rolling in 2007 after PGA Master Professional John Mulgrew had championed the idea.
"I approached the PGA to try and convince them that there was a need for this qualification," recalled Mulgrew, a tutor and course mentor.
"The PGA Professional is normally the first point of contact at any golf club, and it always annoyed me they were never asked for their opinion on any golf club related business.
"Some clubs have had to streamline their workforce and many pros have either lost their positions or have been asked to take on greater responsibilities within the club."
Leech, as secretary/manager at Formby Golf Club, Merseyside, typifies that scenario, as does Macaskill, the director of golf operations at Boringdon Park, Plymouth.
Working in tandem with two other pros who were with him at American Golf in Plymouth, the 46-year-old is primarily involved in the administrative side at the club which, boasting 18 and nine-hole courses plus a driving range, is perched on a hill overlooking the city.
"We run the pro shop for the owner, look after the golf administration such as membership, run competitions and golf days," he explained. "I also enjoy coaching, so I keep my hand in there.
"But I was keen to develop my career, so studying for the director of golf qualification was a good opportunity to broaden my knowledge."
In terms of broadening his and the knowledge of his fellow Members, the course involves three stages: an Induction Day, the PGA Certificate of Golf Management Theory, and the PGA Director of Golf Qualification itself.
Students are assessed on seven units, ranging from finance and marketing to personal management and customer service.
"It was a bit of challenge as I'm 46 and hadn't studied for ages," Macaskill continued. "I was doing it on my days off, mainly, and it was challenging at times because you're working on your own.
"But you know a lot of it because you're in that environment and the tutors are very good.
"I was assigned to Mansell Richards who I found very approachable – I could ring or email him, and he'd come straight back.
"A lot of it is just knowing the direction they want you to go. Sometimes the questions can be open-ended, so it was a case of making sure I was on the right track.
"In doing the course I found it made me refocus on what I was currently doing – what I was doing well and the areas I wasn't doing as well as I could. You develop a fresh perspective in your own role and this encourages positive changes.
"As a result, I've introduced a few things I didn't have in place before and re-examined others, such as refreshing our risk assessment and course policies.
"Business-wise, you're given a manual and revisit things like sales and marketing and cover things you may have forgotten, so that's been really helpful.
"And during lockdown I cleared out all the folders on my computer and got everything organised. I got everything in place that I had learned and streamlined things."
Macaskill reckons negotiating the course successfully involved at least 20 to 30 full days of study spread over five months, plus a lot of reading to establish answers to some of the questions. All of which came at a cost of £1,500.
However, he feels the investment in both time and money was well spent.
"It's helped me massively with my current role," he confirmed. "I've improved a lot in the areas that were weak and feel much better equipped to take on more responsibilities.
"I've put what I learned to good use on the admin side plus sales and marketing; and it's also helped in training our assistants.
"If you're in my sort of role, it helps in all aspects of the job and improves your prospects for the future. I can't recommend it highly enough."