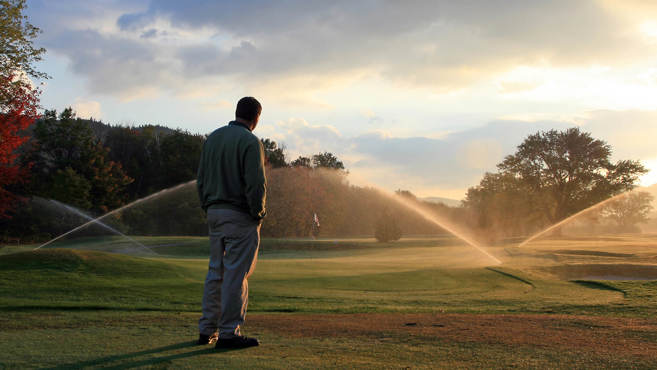 One in every three greenkeepers is looking for work outside of golf, according to a new survey by the British & International Golf Greenkeepers Association (BIGGA).
Although 56% of respondents said they were happy working within the greenkeeping profession, 35% admitted they were currently looking for opportunities outside the industry.
With regard to issues of recruitment, 53% are running with teams at less than full strength, while 83.5% said they struggle to recruit new staff.
More than 1,300 members of BIGGA, representing golf clubs across the United Kingdom, responded to the survey, which asked them to provide details of working conditions at their facilities and to comment on their job satisfaction.
The pandemic-inspired boom in golf has translated to a general increase in staffing numbers, with golf clubs having on average one extra full-time greenkeeper compared to the previous poll in 2019.
However, only one in five facilities offers single-sex changing facilities and toilets for female team members. Despite increased reliance on technology, nearly half of clubs do not provide internet connectivity within the greenkeeping facility.
BIGGA CEO Jim Croxton said: "I'm pleased to be able to present robust data to the wider golfing industry that lays bare some fairly frightening statistics on the challenges that exist within our profession.
"We know anecdotally that there are major challenges regarding the recruitment and retention of staff and also that pay, conditions and welfare are major contributors, but to see in black and white that nearly 35% of greenkeepers are looking for work outside the industry is truly a concern.
"The key question is what does the game of golf does with this information? It is widely known that there is currently a general challenge in recruiting and retaining staff across society. In order to continue functioning, many sectors have responded with significant pay increases and improvement in working conditions. Golf requires an integrated approach by the entire sport to overcome the challenges laid out by this survey," he said.
Further details and a results breakdown is available by CLICKING HERE.