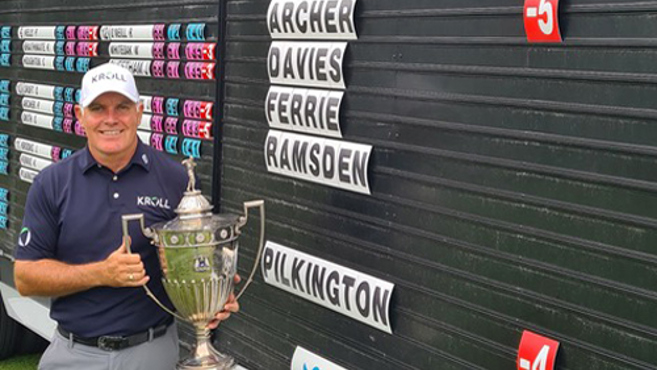 Less than a week after losing his mum to cancer Phillip Archer landed the Leeds Cup at Cobble Hall.
The Poulton Park pro came through a four-man play-off with fellow former winners Michael Ramsden and Gareth Davies and debutant Kenneth Ferrie and he did it in some style, smashing a drive on the 341-yard first hole which finished 30 feet past the pin.
Two putts later he was celebrating a win in a tournament that he only played in to honour one of his late mum's dying wishes.
"I lost my mum on Monday this week and she was my biggest fan," Archer explained.
"When I holed that birdie putt on 18 I was pretty emotional – she was 81 and fit as a fiddle, she was playing golf four weeks ago when she finished third in a comp at Poulton Park.
"She was enjoying her golf again and it all then just came to a head, she went into hospital and never came out.
 "My dad died of cancer as well but that was nine months of chemo and it was horrible - my mum always said that she didn't want to go through that.
"She made me promise that I would carry on and play in this so it was a bit of an emotionally charged couple of days.
"Whatever happened she wanted me to carry on, then she died and all my family said to play.
"My wife caddied for me on Wednesday and got me through that and today I just thought I would go for it."
Sticking to his routines and trying not to dwell on things Archer pulled his tournament around after a dropped shot at the 12th – he nearly eagled the 14th, made a superb two up the hill at the next and very nearly holed his second shot at the 16th.
With the leaders at five-under he then hit a 6-iron 10 feet under the hole and knocked it in.
His closing 64 was somewhat different to his first-round 69 where he parred every hole and took 36 putts.
  "At the first I hit it to four feet and rolled in my first birdie which was a bit of a relief. Then I got my confidence going over the closing holes to get me there."
Ramsden, who won the event with a late run here in 2017, birdied two of the last three holes for a 66 while Gareth Davies, who won the last Order of Merit event at Hurlston Hall, had an extraordinary day.
The Abbeydale pro took a quadruple-bogey eight at the fourth before responding with a birdie at the next. He then rattled off three birdies in four holes from the 11th and nearly won it at the last when his birdie putt came up just short.
Last week Ferrie lost out in a play-off in the PGA Assistants' Championship at Farleigh and he would again be undone in extra holes.
"I hadn't played the course before and it's a course where you need some knowledge – I played well the first 11 holes and then hit a bit of a wall and missed a couple of birdie putts which killed my momentum," said Ferrie who has three European Tour wins to his name.
"It doesn't change when you're up there, whatever level you are playing at, you want to win whether it is a major or the monthly medal.
"If you are there or thereabouts there are always a few little nerves, you never get rid of them and I would never want rid of them as that bit of adrenaline can give you a boost but it doesn't change.
"I'm enjoying these events, I've always heard the boys talking about the Leeds Cup and this is more like playing with your mates.
"If you play well, you play well and if you don't it's not the be all and end all whereas Tour life is a lot more dog eat dog. Here it does feel like everyone is rooting for everyone else."
The 42-year-old has just completed the first year of his PGA training and he's quite enjoying the new way of life.
"I'm doing my school work and playing and practising – I'm alright at the work, I'm very OCD and I like to have a plan and I enjoy knowing when the course work is due and when my exams are. The last time I did an exam was my GCSEs around 1995, I did two years in the States but I'm not sure I did any exams."
CLICK HERE for a full list of scores